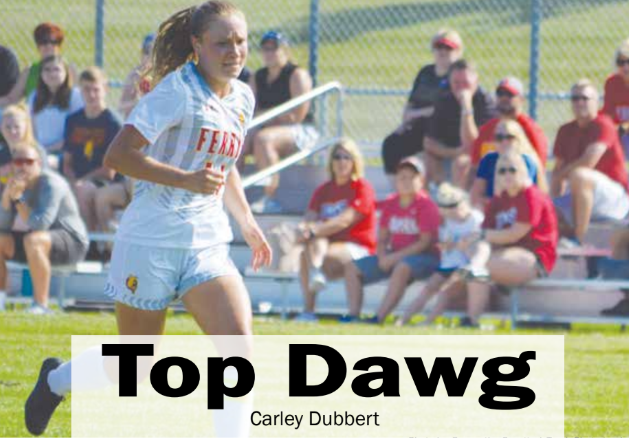 Top Dawg is staying on the field this week, but it isn't Top Taggart Field.
Ferris junior defender Carley Dubbert of the women's soccer team continues to find ways to help her team to victory. The same can be said this week, as the Bulldogs grabbed two victories to extend their current win streak to eight.
Friday, Sept. 21, Dubbert and her squad headed to north for a GLIAC matchup with Michigan Tech. Dubbert recorded an assist on sophomore midfielder Bri Rogers' goal. That would be Ferris' lone goal and helped them to a 1-0 win. Dubbert wasn't happy with just assisting in that contest, so she decided to score herself in a match with Northern Michigan University Sunday, Sept 23.
Recording three shots on goal, Dubbert was able to find the back of the net late in the game to give her team a 2-1 victory over the Wildcats.
Scoring isn't anything new for Dubbert, as she is currently second on the team in goals with four and second in shots on goal with 12.
One year removed from a team-leading nine goals, Dubbert looks poised to reach that mark yet again and lead her team late into the playoffs.
The Bulldogs currently sit at 8-1 overall and haven't lost a game in nearly a month, with the last one coming in the first game of the season against Missouri St. Louis. Ferris is also tied for first in the GLIAC with the Saginaw Valley State University Cardinals and the Ashland Eagles, both of which they play this week.
Dubbert and her Bulldogs will look to distance themselves in conference play when they take on Ashland 4 p.m. Friday, Sept. 28, on Ferris' home turf.