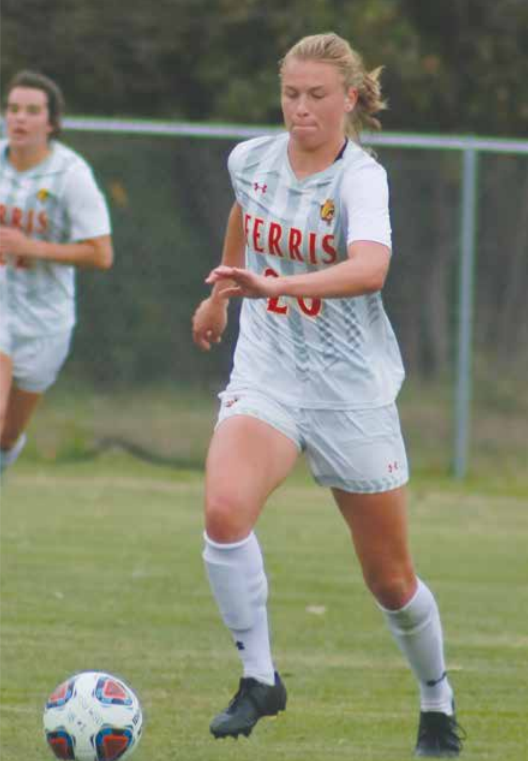 What a difference a season has made for the Ferris women's soccer team.
After a 2017-18 season saw the Bulldogs struggle to string together consistent wins, Ferris head coach Andy McCaslin's squad has soared to new heights this year. The Bulldogs started this season out with an 8-1 record in their first nine games, with all eight of those coming in
consecutive games, a first for the program. Four of those eight wins for Ferris came in GLIAC play.
The Ashland Eagles were finally able to break the win streak Saturday, Sept. 29, when they forced a 2-2 tie with the Bulldogs in double-overtime. The Bulldogs held a 2-0 lead in that game as Ferris sophomore mid-fielders Bri Rogers and Abigail Gilmore put their team on top before Ashland stormed back to force a draw.
Ferris managed to escape the weekend without recording a loss, however, as they recorded another tie in a 1-1 bout with Saginaw Valley State University, who currently sits in the top spot in the conference. Rogers scored the lone goal in that game to grab her second goal of the
weekend. Rogers' two goals were also her first on the year. Every individual has played a role in Ferris' success with both older and younger players playing hard and racking up goals.
One of the leading scorers this season has been Ferris senior defender Carley Dubbert, who has brought in four goals on the season and leads the team in shots.
"We are so close and work so well together," Ferris senior defender Olivia Brewer said. "Though the season is going well, we still need to stay focused and not take any game lightly. We have to come to play every game because anything can happen."
Staying focused on each game will be key for the Bulldogs, as they have just eight games remaining in the regular season. Currently standing at 8-1-2, the Bulldogs are in second place in the GLIAC, a nice spot to be sitting in as tournament time closes in.
The Bulldogs will hope to start another win streak when they face Purdue University Northwest 3:30 p.m. Friday, Oct. 5, in Westville, Indiana.