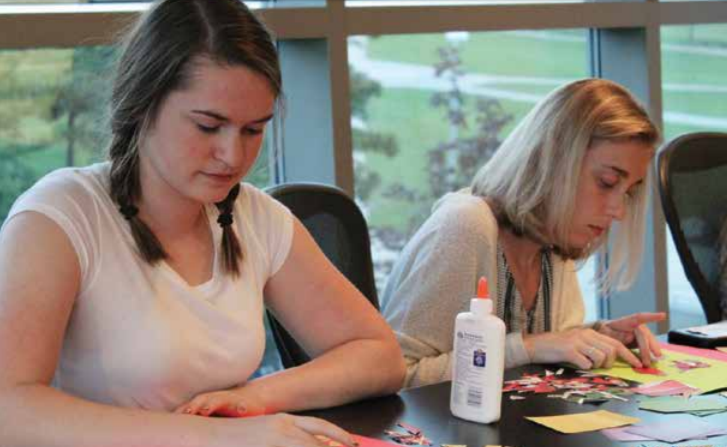 For those who love to create, the registered student organization (RSO) Crafters Anonymous gives opportunities for self-expression through various forms of art.
Ferris psychology senior April Wilson has been a member of Crafters Anonymous since her freshman year after joining with the interest of creating, and is now the Crafters Anonymous President.
"I always have fun making things. We do so many fun crafts each week. Last year, one of my favorite crafts was arm scarf knitting. It's like knitting, but you use your arms as needles," Wilson said.
Crafters Anonymous treasurer and Ferris pre-pharmacy sophomore Valerie Eckman enjoys the fuzzy kind of crafting.
"My favorite part is the knitting. We're making mug cozies right now. It's like a little sweater-type thing for your mug. We end up selling some of them at our craft sales. We do crafts for our craft sales and then we do crafts just for fun," Eckman said.
Crafters Anonymous hosts two or three craft sales a year where they sell the crafts made during their meetings.
"Our craft sales are usually about five to six hours, and people from Crafters usually sign up to take hour shifts," Eckman said. "We set up a table somewhere around campus. Last year, we set it up at the IRC. Then, we set up the things we made on the table, and people can buy it. We have a lot of people come and we have a wide range of prices."
Along with craft sales, the established RSO recently put out their first event for students in September called Tie-Dye in the Quad. Students were invited to bring their own piece of fabric and dye it using crimson and gold dyes.
"This was the first student-focused event that we've ever done, so we were just doing it to kind of test the waters and see how things would
go. It turned out really, really well. We wanted to do something to get our name out there and do something that a lot of people would enjoy. People could bring their own shirt, but some people brought leggings, sweatshirts, and one person brought shoes," Wilson said.
Crafters Anonymous has meetings 7 p.m. Mondays in FLITE 214.
"I think it's important for people to know that you don't necessarily have to be super creative or artsy to join our organization. Crafting is fun, relaxing and literally anyone can do it," Wilson said.
For more information, join their Facebook page at Ferris Crafters Anonymous or email April Wilson at wilsoa63@nullferris.edu.