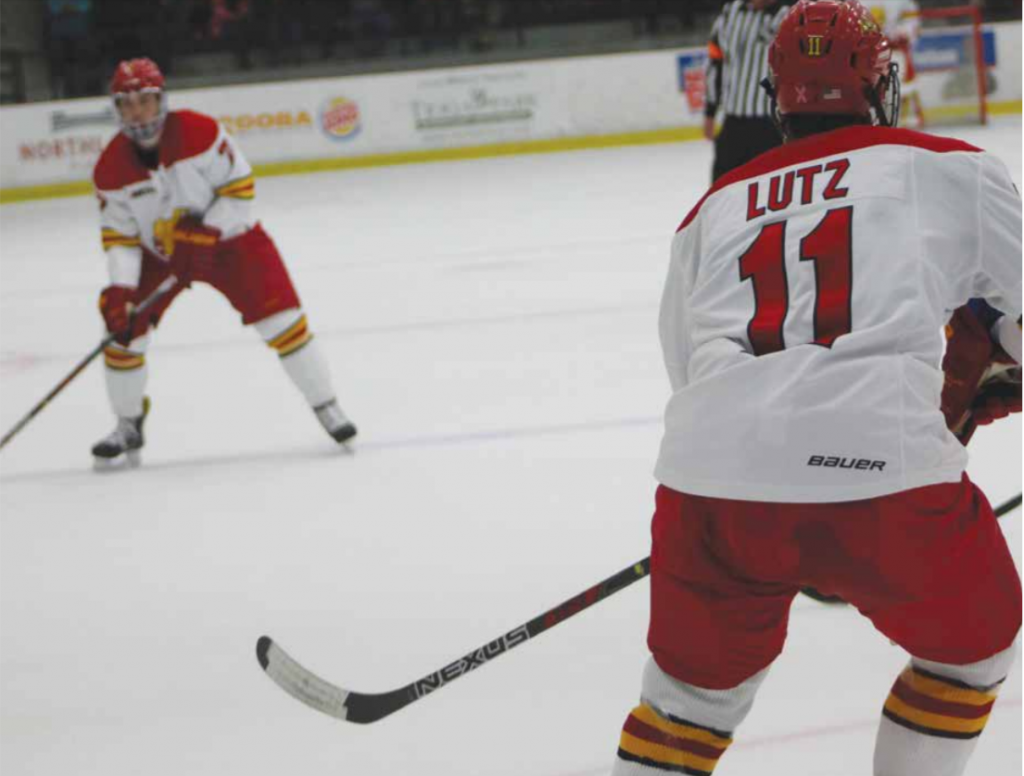 After back-to-back disappointing seasons, the Ferris hockey team is looking to get the wheels moving in the right direction.
After the team's run in the Frozen Four during the 2015-16 season, the Bulldogs seemed to have fallen off their wagon in terms of consistency and post-season play. The last two seasons, the Dawgs have been eliminated during the opening round of the Western Collegiate Hockey Association (WCHA) by the Bowling Green Falcons. Instead of dwelling on the past, however, Bulldog fans should look towards the bright future of the organization.
"I think we have a better balance of older and younger players in key roles," Ferris hockey head coach Bob Daniels said. "We've got a better depth up front than we have had in quite some time."
Having depth is crucial to go into games confidently, knowing that the fourth line offense could have the same production as the top two lines during any moment, which is key to staying consistent on the ice, resulting in more wins.
From returning stars like Ferris senior forward Corey Mackin and Ferris junior goalkeeper Justin Kapelmaster, to new faces that'll be seen around the ice like WCHA Preseason Rookie of the Year defenseman Cooper Zech, there's so much to look forward to as far as skill goes. Daniels knows there's some players poised for a breakout year, but he had one name in particular in his head.
"Corey Mackin, even though that's a crazy thing to say because he tied for us in the scoring lead last year … but he had an off year. He had two major surgeries a summer ago … and he was not able to train at all during that summer," Daniels said.
Producing 10 goals with 15 assists for a total of 25 points during his junior season, Mackin hopes to take off and have a drastic increase in
his production. As the captain of the team, it is crucial that Mackin sets the pace for the rest of the team to excel during the regular season.
Bringing some fresh talent to the rink, Zech is set to have a great season, as well. After playing in the British Columbia junior league last season, Zech was awarded with multiple accolades for his play. Zech earned Defenseman of the Year and was also up for Player of the Year in Canada.
"He's highly skilled. He's an offensive defenseman … The key for him is how quickly and how good is he at self-diagnosis," Daniels said. "He'll have to figure out what works at this level and what doesn't."
For the 2018-19 season, Ferris has 20 home contests out of 36 regular season games, which is a significant increase from previous years and it should show in the win column. Playing in front of the Dawg Pound really brings extra energy and helps the team compete that much harder.
"If you look at our record over the past 15 years, our record at home is far superior … No one has a better student section than we do, so we love playing here and we love playing in front of our students," Daniels said.
The Bulldogs' season starts out with two exhibition games: 5:07 p.m. Saturday, Oct. 6, against the U.S. National U-18 Team, and 3:07 p.m. Sunday, Oct. 7, against the University of Lethbridge (Canada). Since these exhibition games don't count towards their season record, it is a good time for the team and coaches to get their feel on the ice and make any changes to get rolling once regular season action starts.
Ferris' matchup with the U.S. U-18 team has some big names on the ice, as most of the players on the U.S. U-18 team are top prospects for NHL teams, specifically projected No. 1 overall pick in the 2019 NHL Entry draft Jack Hughes