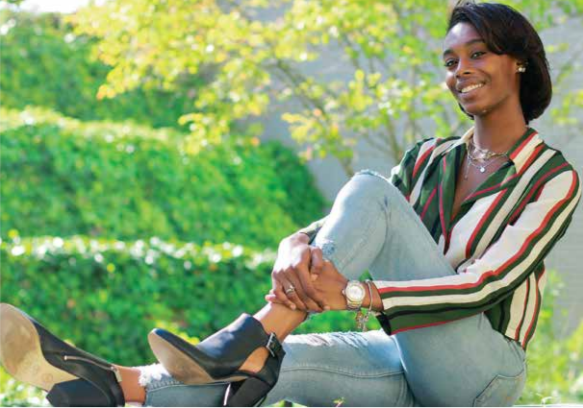 The changing of the leaves brings a new sense of style for Ferris public relations junior Kamry Morris as she begins to trade her shorts for sweaters.
Morris, who is the president of the special interest registered student organization Student's Fashion Alliance, describes her style as being laid-back, but also vibrant.
"Fashion helped me be comfortable with who I was and helped me express myself. It helped me connect to people, because sometimes I can be socially awkward. It's just opened different doors for me and helped me be a better person, honestly," Morris said.
Morris first joined the Student Fashion Alliance after learning about it in a journalism course through a previous e-board member who has since graduated from Ferris.
"She just said something in class and it sparked something in me because I like fashion and nice clothes, and not even the whole fashion part, but just putting together events and collaborating with people. So I went to a meeting and it just started rolling from there," Morris said.
Once the leaves begin to fall, the members of the Fashion Alliance already have their go-to pieces off their hangers. Ferris marketing junior and Student Fashion Alliance member A'nya Amos enjoys a nice pair of cut-up jeans in a classic color.
"I like a more classic, simple look. Like, I love black," Amos said.
With layers and accessories already on the brain, it's time to rediscover timeless pieces that will keep you warm and on trend.
"High-waisted jeans, those are always in. Like in the '60s, they had the high-waisted everything, and then in '70s , they had the high-waisted bell-bottoms. Then in the '80s, they had the high-waisted, loose-fitted and the '90s had a similar thing. Now we have the American Eagle ripped-up, high-waisted jeans. So, I feel high-waisted jeans don't go out of style," Morris said.
Fashion is about more than just looking good; students also need to feel good. Ferris pre-dental freshman Melody Antel finds the productivity of her day depends on what she wears.
"I think I really like fashion because it gives you more confidence in yourself. Like, the more time I put into my look, the more time I put into my day. So when I have baggy clothes on for the day, it's more of a lazy day. But when I wear fashion clothes that's kind of uncomfortable, then I'm more focused in class," Antel said.
The Student Fashion Alliance will be collaborating with J.C. Penney Saturday, Nov. 3, by hosting the Suit-Up Challenge, a miniature fashion show with the goal of providing students formal attire for internships and jobs. This will include a 40 to 60 percent J.C. Penney discount toward clothes for students.