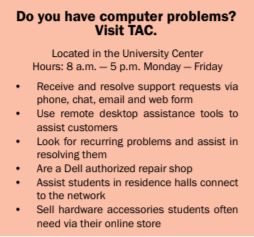 Whether the need is big or small — from submitting an assignment to late night Netflix binge-watching — students rely on their computers daily.
"In college, you use your computer so much. With writing papers to discussion boards, I feel like I'm always on my computer. It's important to find one that works well," Ferris chemistry nursing sophomore Jenna Bryan said.
When choosing a computer, students look for a variety of different traits. Price, looks and processing power are all heavily sought-after amenities.
"My parents got me a MacBook for a graduation present a couple of years ago," Ferris business administration junior Mandy Waldemar said. "When they bought it, they got it used. But it still does its job really well. I grew up with Windows computers, but after having my MacBook, I am never going back."
Many students prefer a compact computer that is simple to take everywhere with them, like Ferris biology sophomore Jenna Gray.
"I got this computer, it's a Microsoft Surface Pro, last year. I cannot express how much I love this thing. It's a tablet and a computer in one, so it's very multipurpose. I usually buy online textbooks because it lightens my load, and the tablet feature works perfectly with it," Gray said.
If you don't know what you're looking for, you're not alone. Many students begin the school year not knowing what computer will best suit their needs. Bryan found herself in this situation her freshman year.
"I got my computer from the bookstore at the beginning of freshman year. I needed a computer and didn't really know what to pick. I'm a sophomore now and it's still working. It's not really the most attractive computer, but it's reliable and that's really what I appreciate about it," Bryan said.
Different majors require unique programs to complete assignments. But most students, no matter the major, need a program that helps them write papers.
"I am a Google Docs girl. I love that it saves my work automatically and I do not have to worry about saving every five seconds. I've lost too many papers from my computer crashing in the middle of typing," Gray said. Microsoft Office is free for Bulldogs by signing in with their MyFSU username and password.