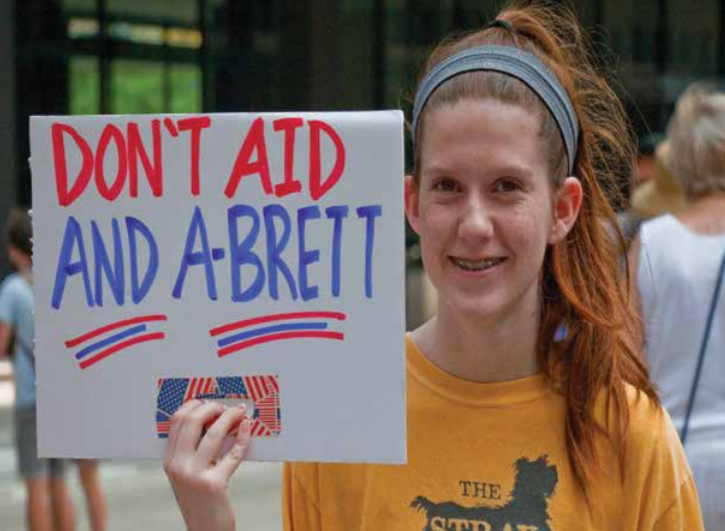 If you follow any semblance of the news, especially politics, you've likely become recently familiarized with the names Brett Kavanaugh and Dr. Christine Blasey Ford. Kavanaugh is the accused and Ford the accuser in a sexual assault that reportedly happened in the early 1980's. But this is much bigger than that.
Kavanaugh was recently sworn in as the newest Supreme Court justice, a lifetime appointment that represents one of the most prestigious positions in the American political system. Whether or not this sexual assault claim is true should have been imperative to whether or not the senate even held a confirmation hearing. It wasn't, and we had a weeklong FBI investigation during a pause in the confirmation. Nothing was found, especially against all of the constraints involving the investigation, which raised its own concerns by being too hasty.
During a senate hearing Thursday, Sept. 27, that was aimed at airing the details about the alleged assault and gave senators a chance to ask questions to both Kavanaugh and Ford, Ford drew multiple questions about her intent when coming forward with the assault accusation implying that her intent is somehow important when in fact, it's not. It does not matter even if the one singular reason that she came forward, thrusting herself into an unwanted spotlight full of unwanted attention, is to stop Kavanaugh's appointment to Supreme Court. All that matters is whether or not there is a reason to believe that her claims are warranted.
Even if Ford came forward only to stop Kavanaugh's appointment, if he is guilty of sexual assault he doesn't deserve to hold that office. Any other stance not only discredits victims who come forward, but also implies that even if guilty, sex offenders won't be held accountable by
the American justice or political system; the action of his appointment shows that for many those in power are not listening to the people. Rallies were held all over the United States in response to his appointment, and people are already trying to find ways to impeach him.
According to Philip Bump of the Washington Post, "Kavanaugh will be the first Supreme court Justice nominated by someone who lost the popular vote to earn his seat with support from senators representing less than half of the country while having his nomination opposed by a
majority of Americans."
During the senate hearing, Ford also expressed that she had contacted her congressional representative about the alleged assault when Kavanaugh was still just a potential nominee for the position and hoped her message would reach the White House. This isn't just coming out of the blue to stop a senate confirmation; it was previously reported, and previously ignored, similarly to many reports of sexual abuse.
Ford described in the hearing how Kavanaugh held his hand over her mouth to stifle her screams during the alleged assault. It isn't without irony that as a country, we've placed a proverbial hand over the mouths of victims, stifling their voices and their claims when they come forward. Ford, however, is an addition to a long list of sexual assault accusers who have been discredited due to the amount of time before coming forward and the status of the accused. She went home only to receive death threat by strangers, and Kavanaugh became one of the most powerful people in our governing body.
We need to send a message to everyone that abuse won't be tolerated, and that victims will not be silenced. This case could be a good place to start. Keep fighting and make sure you are registered to vote and really think about the implications of certain people in power.