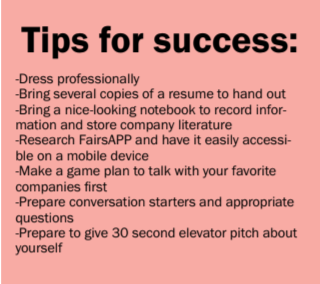 An internship or new job opportunity could be waiting just around the corner for many students looking ahead to next summer and beyond.
The annual Ferris Career & Internship Fair will be taking place 10 a.m. Thursday, Oct. 18, at the Ewigleben Sports Complex. The fair is open to all majors and will have over 300 employers in attendance.
"It definitely is good practice for people who are not used to talking to employers or people who are hiring, and it's good practice for the proper attire that people are supposed to wear, too," Ferris information security and intelligence senior Lilia Herdegen said, who has attended the fair the past three years.
According to Ferris Center for Leadership, Activities, and Career Services (CLACS) Coordinator of Career and Volunteer Centers Michele Albright, the fair has been growing in size and success since its beginning, with this year being the biggest fair yet.
"It has consistently grown each year over the last six years that I have been planning it," Albright said. "There are over 300 employers registered to attend. These include engineering technology, criminal justice, education, healthcare, finance, business, information
security, non-profit organizations and many other fields."
Appropriate attire for the event is business professional. Students can take advantage of First Lady's Attic located in the University Center, which provides one free business professional outfit per year to any Ferris student.
To prepare, students should think of conversation starters, questions and a 30-second elevator pitch about themselves.
Albright recommends bringing a nice notebook to write down information and collect company literature in, as well as several copies of a resume.
"Go into the CLACS, I know that they offer practice interviews. Take advantage of that, make sure your resume is free of any errors, make sure your LinkedIn is updated, too," Herdegen said. "That's just in general with being prepared and making sure you're confident when you go up to employers."
Ferris psychology and biology senior Duvonna Haynes has not attended the fair in the past, but said that she can see the benefit of doing so.
"I believe it's a benefit because even if you're not ready to graduate, it allows for practice for the lower-classmen to get used to meeting potential employers and potential grad schools, and it also gives them a direction to go in as far as figuring out their career choices," Haynes said.
More information is available under Handshake at MyFSU, FairsAPP and at CLACS. Students and alumni can contact Albright at clacs@nullferris.edu with questions.