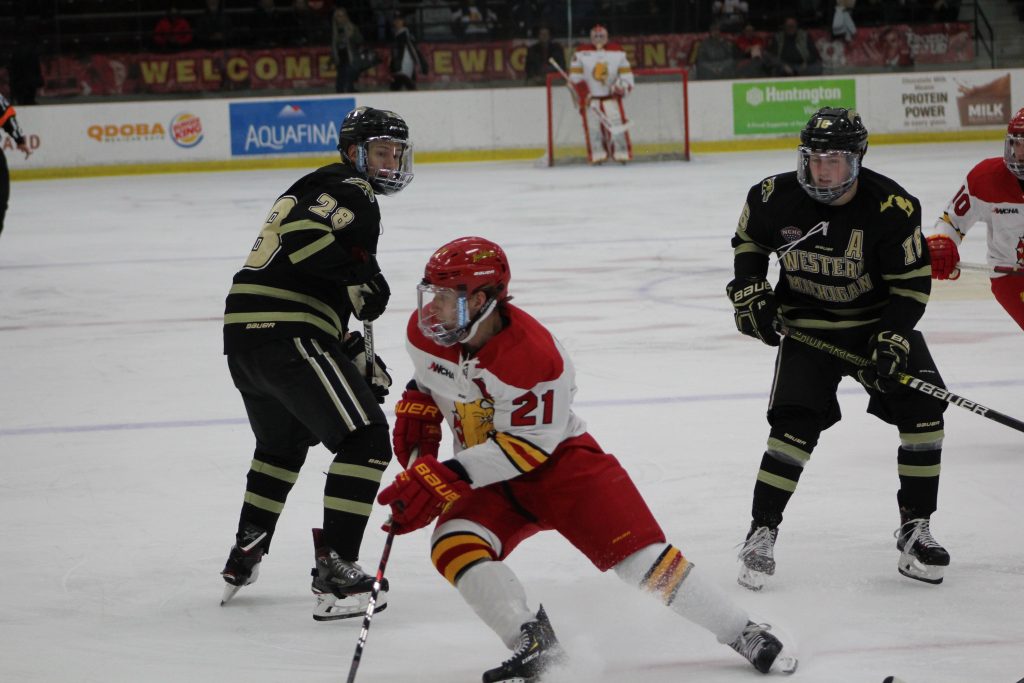 Ferris hockey struggled to find the back of the net Saturday, Oct. 13, as they were blanked by the Western Michigan University (WMU) Broncos.
The Bulldogs traveled to Kalamazoo to finish the weekend series against the Broncos, who are nationally ranked at No. 18, in front of a loud WMU crowd. Unlike the previous match up where WMU scored all four of their goals early in the first period, the Bulldogs only allowed one goal in the first 20 minutes of play.
Nearly tripling their shots on goal in the first period from Friday's game, the Bulldogs were producing more offensive opportunities in Bronco territory and kept things under control on the defensive side. There were many scoring opportunities in the first 20, but the Bulldogs failed to convert.
Scoring picked up during the second period as the Broncos scored two goals in a matter of three minutes. As momentum grew for the Broncos, it dwindled for the Bulldogs, who managed just six shots on goal.
Less than five minutes into the third period, the Broncos took advantage of a Bulldog penalty and converted on their second power play goal of the night.
The Bulldogs spent a lot of time in the penalty box, as they were called for a total of eight penalties which added up to 16 minutes, nearly a whole period playing a man down.
As the clock winded down, Ferris struggled to get anything going in the offensive zone, only producing seven shots on net. With 1:25 left to play, the Broncos would find the net one last time to make it 5-0, which would end up being the final score.
The Bulldogs look to bounce back as they host Mercyhurst University (Pennsylvania) 7:07 p.m. Friday, Oct. 19, and Saturday, Oct. 20.