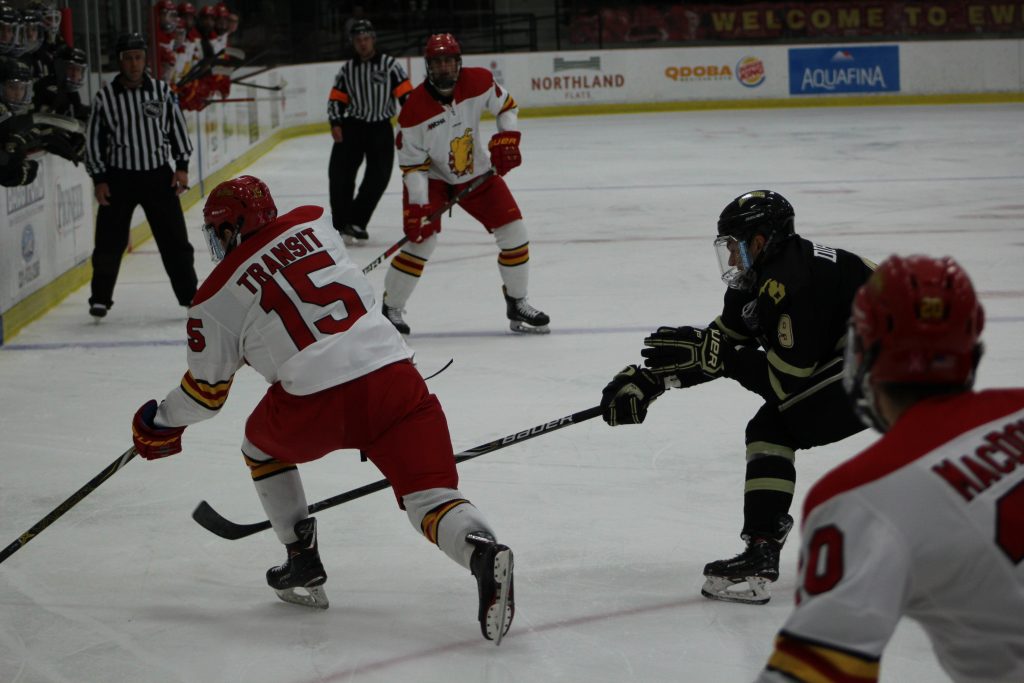 A 4-3 loss to the Western Michigan University (WMU) Broncos was not how the Ferris hockey team wanted to start their season.
Friday, Oct. 12, 1,602 fans piled into Ewigleben Sports Complex, eager to see what the Bulldogs would accomplish in their inaugural game of the 2018-19 season after watching them dominate in exhibition play.
"We didn't play great," Ferris hockey head coach Bob Daniels said. "Western Michigan playing Bowling Green Tuesday last week was probably really good preparation. While we had good prep playing the development team, it was still different."
The Broncos got things going quickly as WMU junior forward Dawson Dipietro netted a goal just two minutes into the first period. Things wouldn't slow down for WMU either as the Broncos scored three more times in the first period alone.
Ferris was finally able to strike late in the first period when Ferris sophomore forward Coale Norris found the back of the net.
Both teams fought back and forth in the second period, but neither added to the score.
"I think this team is really capable of scoring goals and coming back," Ferris junior defenseman Joe Rutkowski said.
The Bulldogs claimed two goals in the third period, first by Ferris sophomore forward Frankie Melton and then once again by Norris.
"You can't generate offense if you can't play defense," Norris said. "The first period we came out soft, we didn't win any pump battles."
The disappointing loss starts the Bulldogs out at 0-1 in the Western Collegiate Hockey Association (WCHA).
"We have got to make sure we show up at seven o'clock for seven o'clock games," Daniels said. "We've got to make sure we start better. This will be our first road test of the year, and I'm sure Western is going to come out fired up and ready to roll."
Ferris will look to even up the series at 1-1 when they take on the Broncos once again 7:07 p.m. Saturday, Oct. 13, in Kalamazoo.