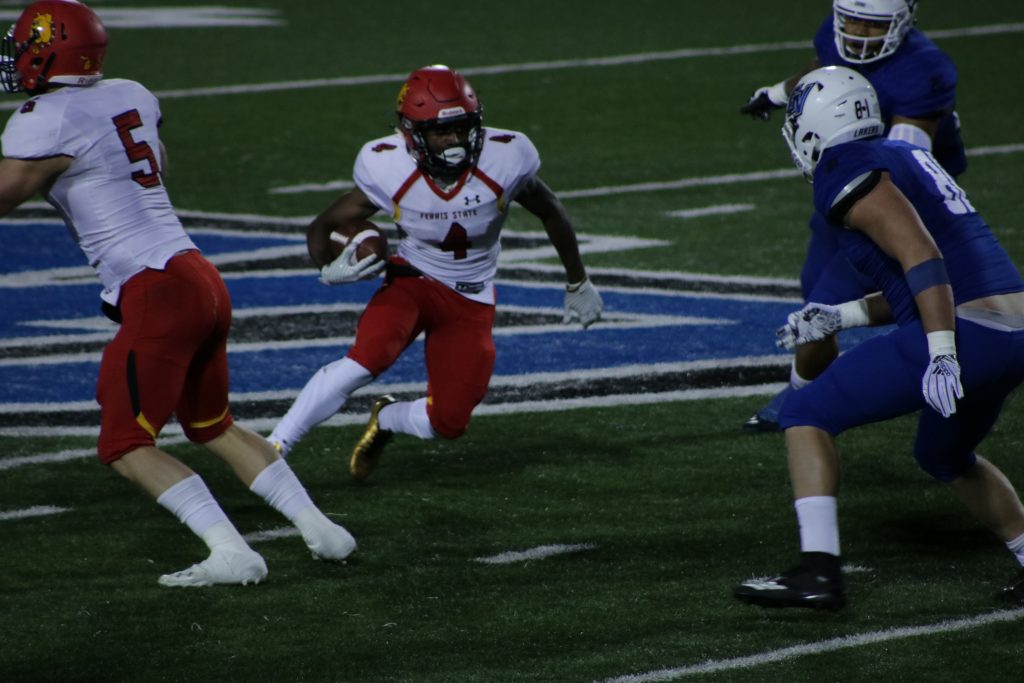 CORRECTION: The article originally stated in the seventh paragraph that Ferris junior receiver stood in as quarterback in the Bulldogs' trick play, when that is incorrect. It has since been corrected.
—
It wasn't easy, but the Anchor-Bone trophy is staying in Big Rapids following Ferris football's 35-31 victory over the Grand Valley State University (GVSU) Lakers.
Ferris football had a slow start to the rivalry game that took place Saturday, Oct. 13. The Bulldogs allowed the Lakers to jump out to a 10-0 lead in the first quarter. The Bulldogs attempted to strike back quickly but were left scoreless in the first.
The second quarter saw Ferris' offense come alive. Junior quarterback Jayru Campbell was determined to chip away at the lead, connecting with senior receiver Keyondre Craig on a 15-yard touchdown pass. The Bulldogs weren't happy trailing by three, so Campbell rushed the ball into the endzone on the next drive to give the Bulldogs their first lead of the game.
GVSU found the endzone one final time in the second quarter to give them a 17-14 lead heading into halftime.
The Lakers scored first in the second half, but the Bulldogs came back quickly with an 80-yard touchdown pass to redshirt freshman receiver Sy Barnett to cut the Lakers lead to just three points.
GVSU looked like they were on a roll, quickly rushing down the field on their next possession. The Bulldogs' defense put an end to it though with a pick-six for junior linebacker Delon Stephenson bringing the Bulldogs in with a 28-24 lead going into the fourth quarter.
The fourth quarter saw Ferris head coach Tony Annese pull out a few tricks, as Ferris junior receiver Jevon Shaw got the ball on a trick play that ended with him tossing a touchdown pass to Campbell.
With the Lakers driving down the field looking to overcome the 35-31 deficit, Stephenson delivered a fatal blow with his second interception of the game, clinching the victory for the Dawgs.
The huge victory over the nation's No. 2 ranked team gives the Bulldogs a 6-0 record on the year.
Ferris will be back in action when they take on the Saginaw Valley State University Cardinals 1 p.m. Saturday, Oct. 20.