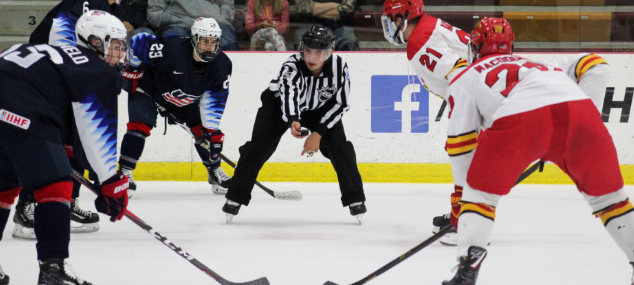 Fire up the Zamboni, because Ferris hockey is back.
The Bulldogs opened their 2018-19 season with two exhibition games against the U.S. Under-18 team Saturday, Oct. 6, and the University of Lethbridge Sunday, Oct. 7.
Ferris began with a 3-1 victory over some of the nation's top prospects in their matchup with the U.S. Under-18 team. Momentum then carried into their matchup with the University of Lethbridge, as the Bulldogs rolled to a 5-2 victory.
"Early season cohesion is huge for our team. We've had a tight-knit team since August. With a good mixture of older and younger guys, our main goal is to just get better day in and day out, and put ourselves in a position at the end of the year to be playing for a championship," Ferris junior forward Jasen Fernsler said.
The exhibition contests were a huge start for the Bulldogs to build confidence in a team that struggled a year ago.
"I feel like it is noticeable when a team is close with one another, and it reflects on the ice. A close group of guys away from the rink are likely to perform better in games," Ferris junior forward Dominic Lutz said. "Getting to know each other and becoming comfortable early in the season definitely helps the team find success."
However, it seems confidence wasn't enough to propel the Bulldogs to a winning record when they took on Western Michigan University Friday, Oct. 12, and Saturday, Oct. 13.
The No. 18 nationally ranked Western Michigan University Broncos struck the Bulldogs quickly and steadily, recording four goals in the first period of Friday's matchup before the Bulldogs came back but ultimately lost 4-3.
"We didn't play great," Ferris hockey head coach Bob Daniels said. "Western Michigan playing Bowling Green Tuesday last week was probably really good preparation. While we had good prep playing the development team, it was still different."
Hoping to regroup and recover for Saturday, the Bulldogs headed to Kalamazoo. The Broncos once again rattled the Bulldogs, shutting them out with a score of 5-0. Ferris played poorly on the defensive end in both games, allowing the Broncos to score with ease. Another problem was the penalty box, as the Bulldogs spent nearly an entire period short-handed on Saturday night.
The Bulldogs will be back in action this weekend as they get set to host Mercyhurst University (Pennsylvania) in the Ewigleben Ice Arena 7:07 p.m. Friday, Oct. 19.