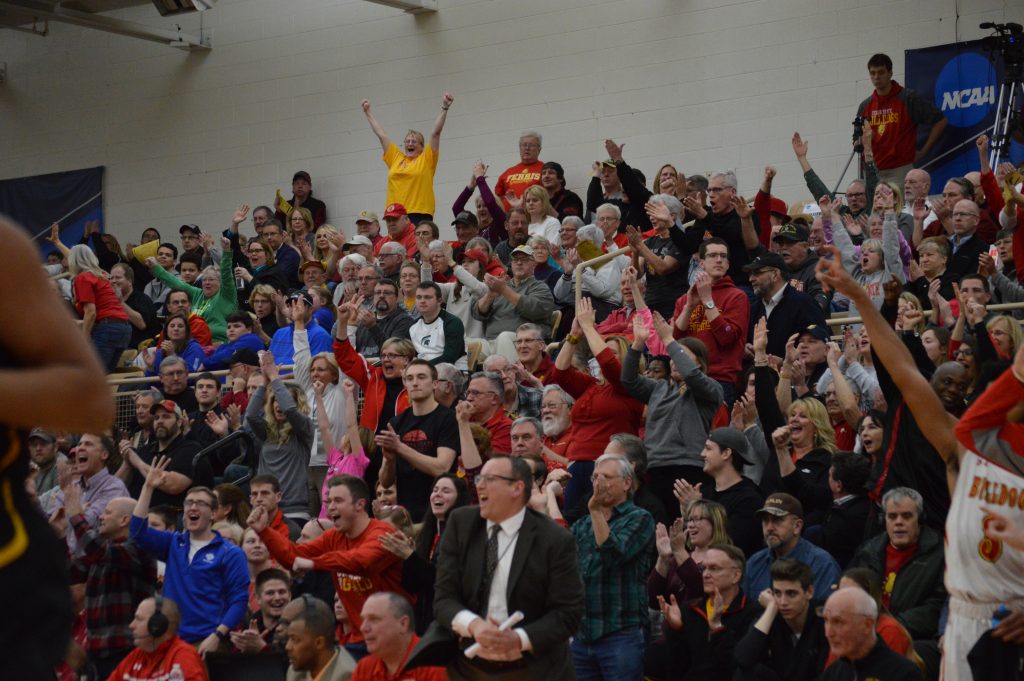 Being a National Champion sure has its perks, but it seems being a fan of a National Champion is just as rewarding.
The Ferris men's basketball team will head down to Durham, North Carolina, to play the Duke University Blue Devils 4 p.m. Saturday, Oct. 27, at Cameron Indoor Stadium, and they want fans to make the trip, as well.
Ferris Athletics partnered with Gerald R. Ford Airport and ESPN 96.1 FM to give away a trip to see the Bulldogs face the Blue Devils in their final exhibition matchup before the regular season begins Nov. 3. The trip includes a flight for two, two nights of lodging, two game tickets and more.
To enter the contest, participants must be at least 21 years old at the time of entry and have a valid ID, which is necessary for air travel. The contest is not open to Ferris employees or their immediate family. One entry per person is allowed.
"It'll be a lot of fun to go down there and experience what it's like to play at Cameron Indoor," Ferris sophomore wing Michael Peterson said. "The energy their fans have on game day is insane and it'll be cool to get to feel that."
That kind of home crowd will be difficult to play in front of, so the Bulldogs are hoping their fans travel well to offset a bit of the noise.
This won't be the first time the Bulldogs face off against a big-name Division I club with a rowdy fan base, as they faced Michigan State University (MSU) in an 80-72 loss to end their 2017-18 pre-season.
"Last year, we didn't look at MSU as being better than us, we looked at them like another team," Ferris senior point guard DeShaun Thrower said. "I think that's why we competed the way we did. If we can come out and compete that way against Duke, it should be a fun and exciting game."
The Bulldogs will have their hands full with the NCAA Division I Blue Devils, as they finished 29-8 overall a year ago with a 13-5 record in a talented Atlantic Coast Conference.
Following Ferris' loss of Drew Cushingberry, Peter Firlik, Noah King and Zach Hankins, the Bulldogs will look for big numbers from Thrower, Ferris senior wing Greg Williams and Ferris senior post Taylor Adway.
How the Bulldogs will match up against Duke freshman forward RJ Barrett, however, is a glaring question. Standing at 6-foot-7 with an outstanding ability to score in transition due to his long strides, it will be vital for Ferris head coach Andy Bronkema to clog the lane and force Barrett to shoot in traffic.
No matter who they play, it seems the Bulldogs are ready for the challenge.
"There is definitely confidence around this team that we could repeat this year," Thrower said. "Even though we lost four starters, we still have players coming back that played a huge role in our run. With a few new pieces that we have coming in, we should be able to pick up where we left off."
Fans interested in winning the "Ferris Flyaway to Duke" contest can register online at ferrisstatebulldogs.com/flyaway. Fans must enter to win by Tuesday, Oct. 23.