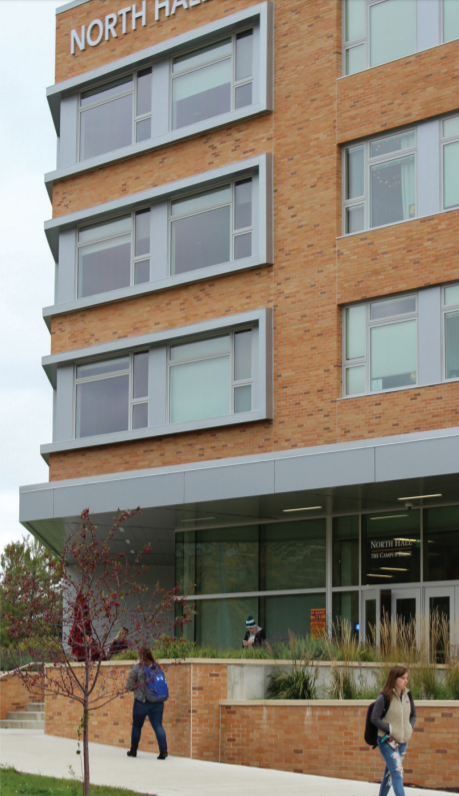 Many who set foot into North Hall will likely agree that it is one of Ferris' most beautiful buildings on campus.
The freshmen-only residence hall boasts 402 beds and 120,498 square feet, according to the Ferris website. It was the first residence hall built since Cramer Hall in 1968, and was completed in time for to accept incoming freshman in the fall of 2017 as its first residents.
Ferris construction management sophomore Marisa Roberts lived in North Hall last year and is currently living in the West Campus Apartments.
"I definitely like North Hall better. I don't think anything is ever going to beat that no matter where you stay," Roberts said. "The rooms were amazing. A lot of people compare it to a hotel. It was just really cool having such a nice and spacious room."
Building amenities include a main lobby with game equipment and kitchen area, classrooms, study rooms, fitness room, one laundry room and lobby per floor, air conditioning and elevators.
Roberts, like many of the freshmen that lived in North Hall last year, took advantage of the study rooms and fitness area conveniently located within the building.
"Having a very nice gym downstairs was very helpful, especially during the winter, so I wouldn't have to make the trek across campus to the Rec Center," Roberts said.
Ferris business administration sophomore Danie Botica is currently living in Vandercook Hall, but said that living in North Hall was a privilege that draws many new students to Ferris.
"I think definitely people used to, my freshman year, call us 'the privileged people' because they never obviously got to experience North Hall, and we had this big kitchen and these big rooms and nice bathrooms," Botica said. "But I also think it's beneficial and that it attracts people into our dorms and to come here. That's what people want to see, is a newer campus."
As compared to other dorms that are not exclusively for freshmen, many former North Hall residents miss the ease and eagerness of forming friendships in that environment.
"North Hall was definitely more homey. There's, like, no one hanging out in the halls of Vandercook or anything. Everyone kind of just keeps to themselves. In North Hall, we were always downstairs cooking, and kind of like a little family," Botica said. "The most I miss is I made my best friends there and now they're off campus, and I chose to stay on campus, so having that connection with someone."
Ferris criminal justice sophomore Alex Bacarella currently lives in Northland Flats, but also misses the North Hall experience.
"I think that I liked living in North Hall more, because there's always people around and activities going on, so it was more fun," Bacarella said. "I liked having a lofted bed, and there was a lot of room I felt like. I think the bathrooms were a lot bigger than the other dorms are."
One of the potential downsides of North Hall is that it may deceive some freshman about what on-campus living is like in other residence halls, according to Roberts.
"I definitely think that North Hall gives this picture-perfect room, but then when you get to your sophomore, junior, or senior living, it's difficult to keep students on campus, especially going from North Hall to, like, Brophy-McNerney type of thing, or even Cramer," Roberts said. "I know that a good portion of students that were living in North Hall — almost everyone that I know are now living off-campus."