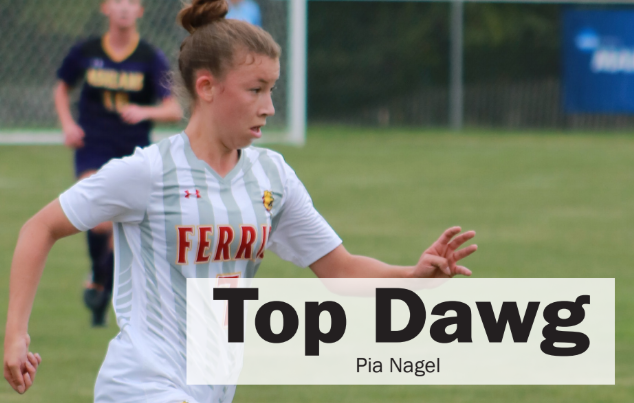 A busy weekend in Ferris sports made it challenging to choose just one Top Dawg, but this week's award is heading to the women's soccer team.
Ferris freshman forward Pia Nagel has been unstoppable since the start of the year. Nagel has dominated the field for the Bulldogs, bringing in goals and assists to lead the Bulldogs to first in their conference.
The German native has brought her talents to the Bulldogs just this year and has already collected 41 shots so far this season, with 27 of them being on goal. Nagel has found the back of the net eight times, the most for any Ferris player this year. Nagel isn't only interested in scoring goals, but also with setting up her teammates, as she has two assists on the year, as well.
Nagel's most impressive game thus far came in the Bulldogs' matchup with the Tiffin Dragons (Ohio) Friday, Oct. 12. Nagel took control of the game in the first minute of play, recording a goal assisted by Ferris sophomore forward Mackenzie Dawes.
Nagel scored once more in the game, finding the back of the net in the 37th minute of play assisted by Ferris sophomore midfielder Kira Budzynski. The Bulldogs added two more goals in the game to make it a 4-0 victory.
During the victory, Nagel broke the all-time school record for getting the most game-winning goals in one season with her fifth of the year. Having started every game this season, Nagel has been a big part of the Bulldogs' success.
Adding to her season total, Nagel found the net Sunday, Oct. 14, when the Bulldogs took on Northwood University for Senior Day.
The team has now won three consecutive matches and has yet to be beaten in the conference, standing at 12-1-2 overall record with a 5-0-2 record in the GLIAC.
With just four games remaining in the regular season, the Bulldogs have their eyes set on rival Grand Valley State University. The Bulldogs will take on the Lakers at home 4 p.m. Friday, Oct. 19.