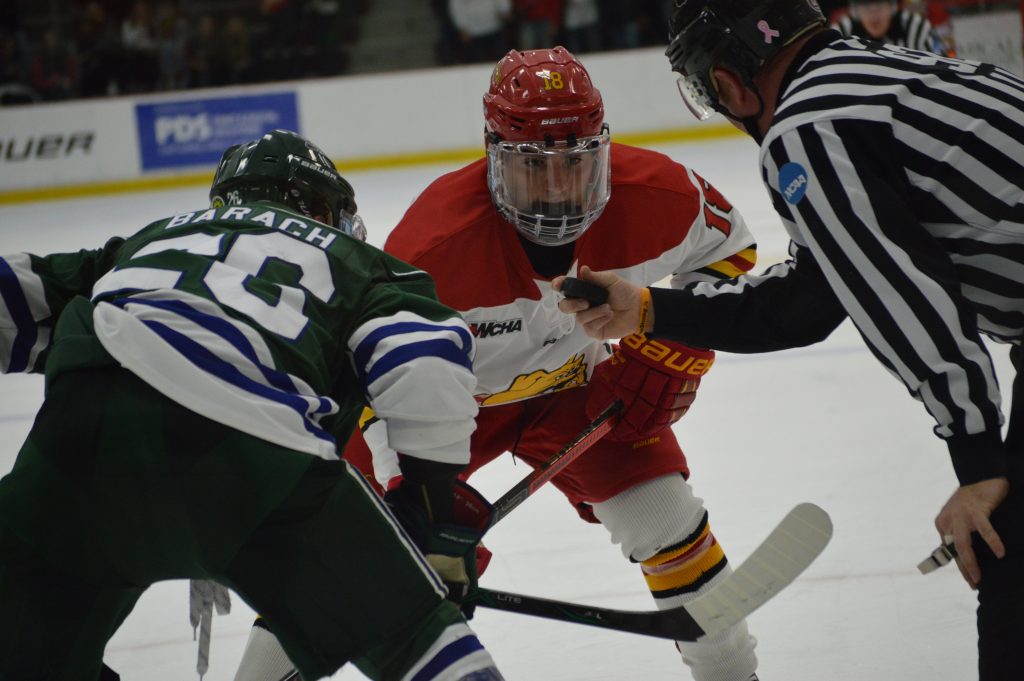 Fresh faces for Ferris hockey shined bright during a 5-2 Bulldog victory over the Mercyhurst University (MU) Lakers.
The Bulldogs received key contributions from five different underclassmen Friday, Oct. 19, as they attempted to battle back from their 0-2 start to the year.
"This is probably a more complete game that we've played. I thought we had a good start to the game, good energy. It was still 0-0 after the first, but I thought we had a lot of territorial play. Overall, I thought it was very good," Ferris hockey head coach Bob Daniels said. "I was happy with our specialty teams. We got two goals on the power play and we held them 0-for-5."
Ferris' offense opened up in the second period, as Ferris freshman forward Hunter Wendt found the back of the net. MU tied the game shortly after, but the Bulldogs finished the period with a power play goal from Ferris freshman defenseman Cooper Zech and an even strength goal from Ferris sophomore Marshall Moise.
The Lakers quickly cut into the Bulldogs' lead in the third period, making it a 3-2 game. Ferris sophomore forward Frankie Melton wouldn't let MU fight back, as he netted a goal less than two minutes later. Wendt scored one more time to give the Bulldogs a more comfortable lead and their first win on the year.
Daniels gave his star goaltender, Ferris junior Justin Kapelmaster, a break, putting freshman goaltender Roni Salmenkangas in front of the net instead. Salmenkangas recorded 23 saves on the night.
"Roni Salmenkangas had a strong game in net," Daniels said. "We got a lot of good play from the younger guys and we also got a lot of good play though from Corey Mackin and some of the older guys, as well."
Four out of the five Bulldog goals came from players that either had to sit out last season due to the NCAA transferring rules (Melton) or are freshman to the program (Zech, Hunter and Wendt).
These three new faces may be household names by the middle of the season with their productivity on offense. Wendt and Melton both have three points on the year while Zech recorded his first of the regular season.
"It's an honor, definitely, because it's parents weekend, especially. I got to score a couple goals in front of my parents and I'm pretty sure it was pretty special for my dad." Wendt said.
Wendt's father, Tim Wendt, played for the Bulldogs from 1980-84.
Ferris looks to bring their record to 2-2 as they square off against the Lakers once again 7:07 p.m. Saturday, Oct. 20, in Ewigleben Ice Arena.