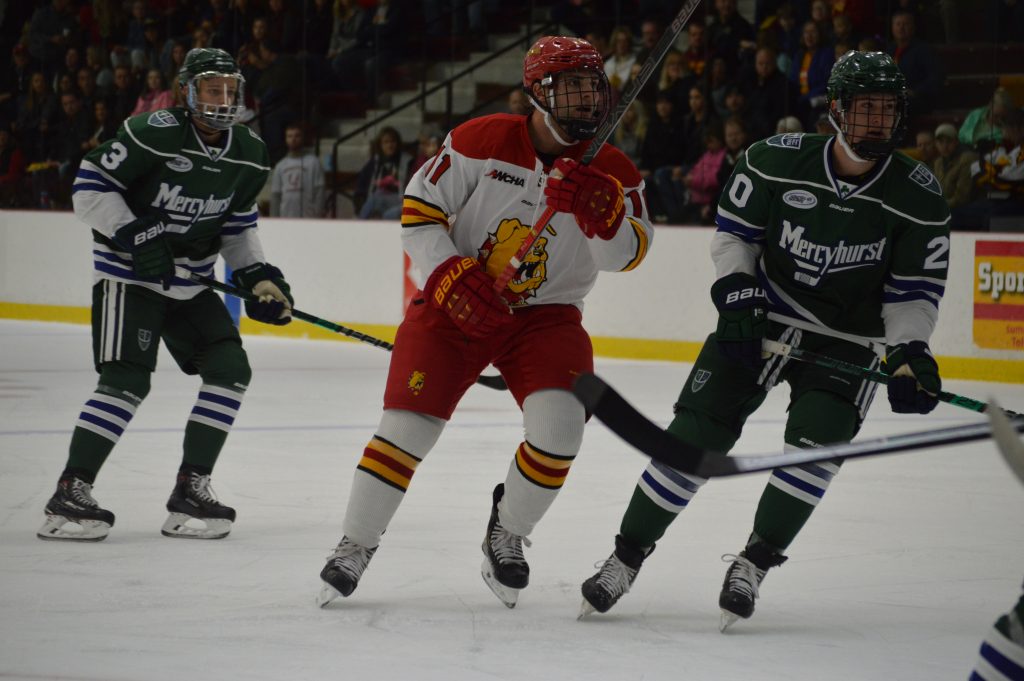 Scoreboard malfunctions and a broken-down Zamboni were the least of the Ferris hockey team's worries Saturday, Oct. 20.
The Bulldogs took the ice in front of a home crowd of 2,201 at Ewigleben Sports Complex, looking to earn a sweep of the Mercyhurst University (MU) Lakers. Instead, Ferris came up empty on the offensive side, falling 3-1.
"I'd like to give Mercyhurst a lot of credit. They did a good job of disrupting us," Ferris hockey head coach Bob Daniels said. "Our penalty kill held them off for the weekend, but even the good power plays are going to be streaky."
The Lakers got on the board five minutes into the first period, as MU junior forward Joseph Duszak netted one. MU scored once more with five minutes remaining in the first period on a shot by MU freshman Dalton Hunter.
The second period was back and forth, but neither team found the back of the net.
"Early in the first when we fell behind, we were trying to make plays," Daniels said. "We turned pucks over and they capitalized. Consequently, now we're behind and we're chasing the game. I thought our team got stronger as the game went on."
The third period started with another MU goal from Hunter. The Bulldogs started to regain life when Ferris junior forward Jason Tackett shot an even strength goal. However, that would be the only time the Bulldogs would score, giving the Lakers the 3-1 victory.
Ferris junior goaltender Justin Kapelmaster saved 13 shots through two periods before he was sent out with injury. With Kapelmaster's status still in question, Daniels may have a decision to make regarding who mans the net over the coming weeks.
"I think it's a short-term type injury. I'm hoping it's nothing long in duration," Daniels said. "I thought he played well, hate to see him get knocked out of the game like that."
The Bulldogs fall to 1-3 in the Western Collegiate Athletic Conference (WCHA) with the loss to Mercyhurst.
"I'm looking forward to the start of WCHA conference play," Daniels said. "Obviously, we want to get off to a good start in the league, and this weekend will be very important to us."
Ferris will hope to string together some wins with five of their next six game being played inside Ewigleben Sports Complex. The Bulldogs will be back in action 7:07 p.m. Friday, Oct. 26, when they take on the University of Alaska Anchorage.