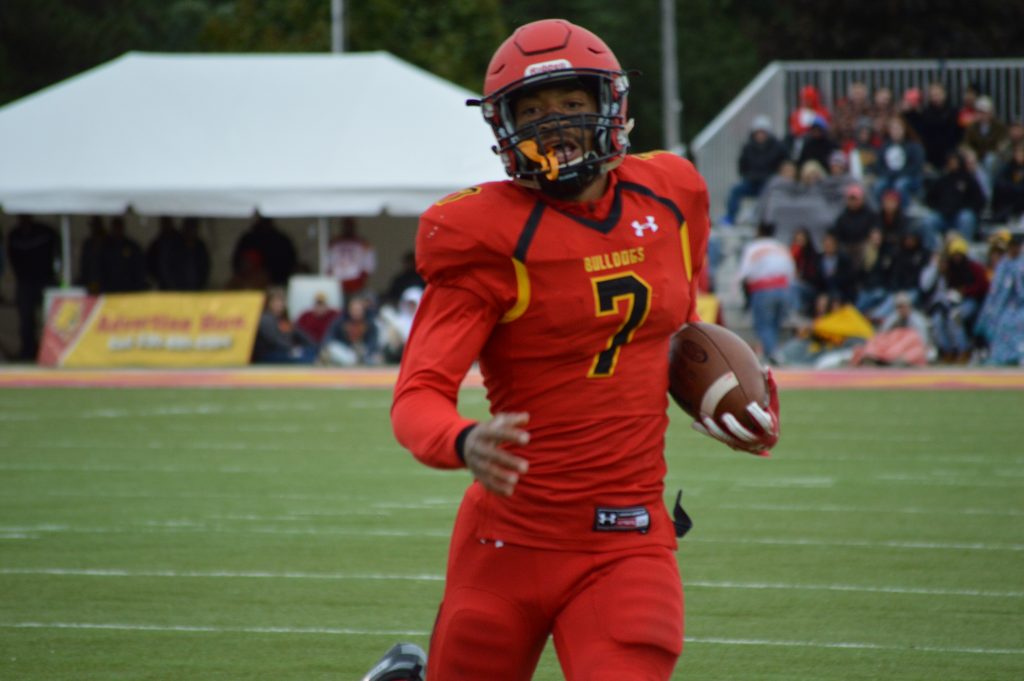 The Ferris football team lives and dies by the quarterback position.
Ferris junior quarterback Jayru Campbell proved this when he breathed life into a Bulldog offense that struggled early in their 28-14 victory over Saginaw Valley State University (SVSU) Saturday, Oct. 20, at Wickes Stadium in Kochville.
Campbell unleashed a 62-yard touchdown pass to Ferris junior receiver Jevon Shaw just two minutes into the game. The Cardinals fought back quickly, finding the endzone twice on the back of SVSU sophomore running back Nate McCrary.
Heading into the lockers trailing 14-7, the Bulldogs needed a spark.
A seven-point lead is all it took for Campbell to decide he'd had enough. Campbell found the endzone twice in the third quarter to put the Bulldogs on top 21-7.
Campbell struck on the ground once more to start the fourth quarter, tacking off an 18-yard run with his fourth touchdown on the day. Campbell did owe the special teams unit a debt of gratitude, as the Bulldogs blocked a punt to set up the run.
Campbell ended the day 5-16 for 119 yards and one passing touchdown, along with 165 yards on 26 carries and three touchdowns on the ground.
Ferris junior linebacker Delon Stephenson continues to read passes on the defensive side, as he came down with his third interception of the season.
The victory over SVSU was huge for Ferris, as it now puts them at 8-0 overall and 6-0 in the Great Lakes Intercollegiate Athletic Conference (GLIAC), which is good enough for first place.
The undefeated Bulldogs will look to distance themselves from the rest of the GLIAC when they take on Wayne State 1 p.m. Saturday, Oct. 27, at Top Taggart Field.