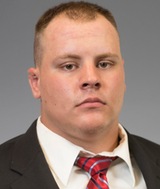 CORRECTION: The article originally stated in the second paragraph that Dan Perry is the student-athlete, when this fact has not been confirmed by the university. In the seventh paragraph, it was stated that forfeiture was a possible repercussion for the Ferris football team, when that is false. These corrections have since been made.
—
Ferris football's record so far this season is unblemished as they sit at 8-0, but a secondary violation involving a student-athlete may lead to negative consequences.
Ferris News Services and Social Media Manager Sandy Gholston released a statement to the Ferris State Torch Wednesday, Oct. 17, saying that the university had notified the National Collegiate Athletic Association (NCAA) of a secondary violation involving an ineligible Ferris football player. The university has not confirmed the identity of the student-athlete, but multiple news sources have identified him as Ferris sophomore defensive tackle Dan Perry.
"By design, the eligibility of every student-athlete is certified by the university, independent of the athletics department," Ferris Vice-President for Student Affairs Jeanine Ward-Roof said. "The student-athlete's transfer history was complex, and the error by the department that certifies student-athlete eligibility was the result of a misinterpretation of a transfer rule."
Perry played the first four games of the season for the Bulldogs against East Stroudsburg, Findlay, Northwood and Northern Michigan, recording five tackles. Since that point, Perry has not played.
Great Lakes Intercollegiate Athletic Conference (GLIAC) Commissioner Kris Dunbar also released a statement.
"The Great Lakes Intercollegiate Athletic Conference is aware of the violation and will make sure proper policies and procedures are followed as we work through the process with Ferris State University," Dunbar said.
The NCAA will have the final say on any repercussions for the team.
Perry served as a redshirt freshman last season after he transferred from Kent State University (Kent, Ohio). He also previously wrestled at the University of Michigan in 2016-17.
As they await a ruling from the NCAA, the Bulldogs will turn their attention to the Wayne State Warriors who come to Top Taggart Field for a GLIAC showdown 1 p.m. Saturday, Oct. 27.
This is a developing story. The Torch will continue to report information as it becomes available.