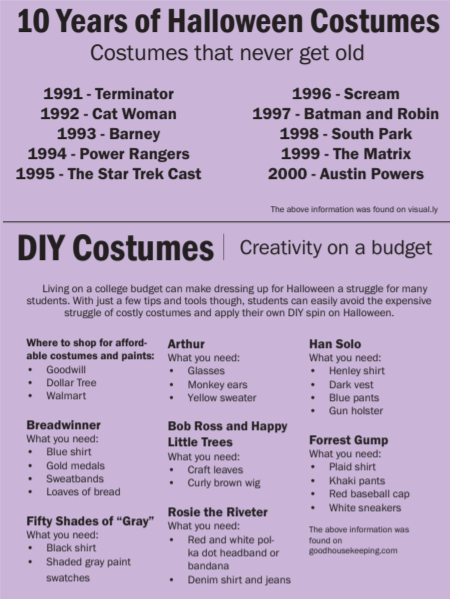 Like many busy college students, Ferris graphic design freshman Bobbie Sheldon hopes to set aside some time for herself Wednesday, Oct. 31, to dress up in her latest Halloween costume.
"Halloween is always a time for me to express creativity, outside of drawing and stuff like that, and it was a time I could dress up in ridiculous costumes without feeling like I was judged," Sheldon said.
Growing up, Sheldon's costumes as a kid consisted of video game based characters such as Mario, Spyro and Sonic. This year, Sheldon has been making her own costume, a mercenary elf influenced from Dragon Age 2. Infusing her passion for creativity into her costume, Sheldon has been working on it piece-by-piece.
"The basic costume is actually her armor itself — which is going to consist of a corset-like piece that I'm ordering that comes up to the collar. Then I'm going to have a chest plate. I also have these brown, leather-looking leggings that I'm also going to add plating onto. The plating is going to be made from foam," Sheldon said.
Though Sheldon's busy schedule hasn't allowed her to celebrate Halloween in the past years, she hopes to have her costume done in time for the big night. Enjoying the holidays is something Sheldon values because it gives her new ideas for her drawing and character work.
"I've always liked it when people took the cliché costumes like the vampires, the werewolves, the devil and put their own spin on it," Sheldon said.
Like Sheldon, Ferris applied speech communication junior Tristan Scribner enjoys putting his own spin on Halloween costumes.
"I kind of get creative. Some of the costumes I have previously owned and sort of just thrown together, cutting up and sewing up to make it look right. I don't spend too much money on other costumes, and if I ever do, it's on little bits and pieces," Scribner said.
In previous years, he has dressed up as the Mad Hatter or a cowboy, but this year plans to do a group theme with roommates as pirates.
Though Scribner and Sheldon enjoy the creative challenge of making their own Halloween costumes, Ferris pharmacy P1 student Lindsay Christensen prefers to find her costume online.
"I usually do minimal effort. I'll just order something online because it's easier than shopping in stores," Christensen said.
Christensen plans to celebrate Halloween this year by dressing as a lifeguard and hanging out with her friends.