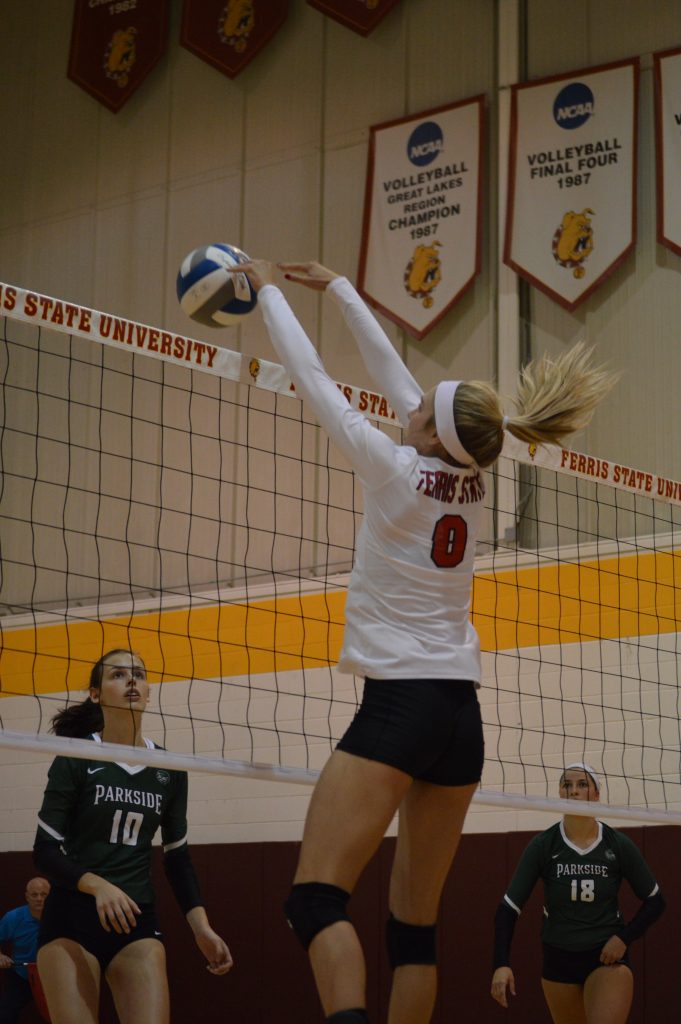 A short weekend for the Ferris volleyball team was just what they needed as they enter the home stretch of the regular season.
"I think our team's biggest motivation is to finish strong and to take one game at a time," Ferris redshirt freshman setter Julia Mitchell said. "We don't like to look too far ahead in the future, but finishing the GLIAC out strong is for sure something we're looking forward to."
Following a tough loss that snapped a 13-game winning streak to non-conference opponent Drury University (Missouri) Saturday, Oct. 13, the Bulldogs bounced right back against Northwood University Saturday, Oct. 20.
Ferris junior outside hitter Allyson Cappel led the way in a 3-0 sweep of the Timberwolves. Cappel led the team with 11 kills, while Ferris junior setter Maeve Grimes lead the team in assists with 29.
With the conference win, the Bulldogs have clinched a spot in the playoffs by bringing their conference record to 12-0 with an overall record of 19-4. With only four games left in the regular season, the Bulldogs hope to finish strong.
"Every girl on our team plays for the girl next to us rather than ourselves," Ferris junior middle hitter Mekayla Carey said. "All of us are extremely dedicated to this team and I believe that's why we've been so successful."
The Bulldogs needed players to step up after losing so much leadership last season. Carey has stepped up big time bringing in over 248 kills, a big improvement from last season where she only had 29.
"My motivation is my teammates," Carey said. "It's a team effort and I just try to do my job the best I possibly can."
With just four games remaining before the Great Lakes Intercollegiate Athletic Conference (GLIAC) tournament begins, the Bulldogs have their eyes set on four straight conference matchups with Saginaw Valley State University (SVSU), Lake Superior State University, Michigan Tech. University and Northern Michigan University slated over the next two weeks.
"We are entering the second round of GLIAC play this week," Ferris volleyball head coach Tia Brandel-Wilhelm said. "Playing teams for a second time is tough, both teams know each other and everyone is playing for positioning in the postseason."
Brandel-Wilhelm highlighted staying healthy as a key for her team moving forward, noting that the Bulldogs are "focusing on daily recovery."
The Bulldogs are set to face the 16-8 SVSU Cardinals 7 p.m. Friday, Oct. 26, at Hamilton Gymnasium in University Center.