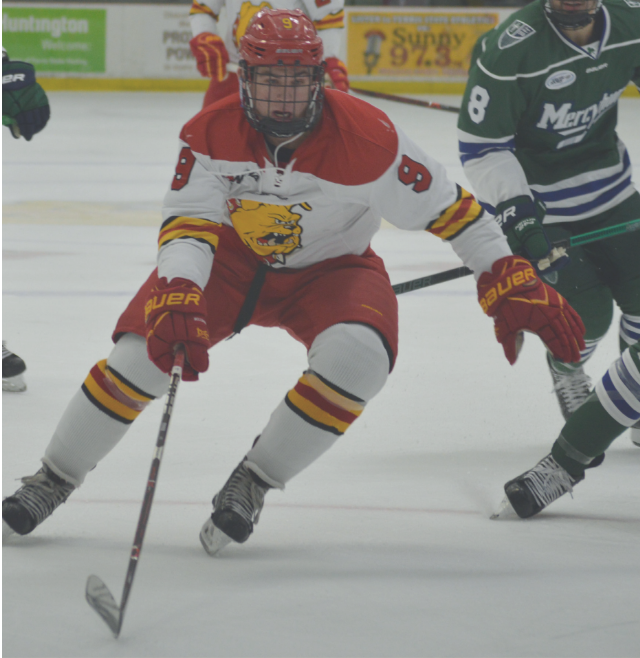 A slow start to the year has the Ferris hockey team sitting at 1-3 overall and looking for answers.
Hopes were high after the Bulldogs dominated preseason, winning both of their exhibition games. The first two weekends of the 2018-19 season, however, have ended in disappointment. Ferris hockey head coach Bob Daniels mentioned the Bulldogs' exhibition match with the U.S.
Under-18 team helped. However, they are a young team so the strength is not quite equivalent to that of an older Western Michigan University team. Another area of concern for the Bulldogs was their puck control.
"I thought Friday night we didn't come out well. We fell behind four-nothing in the first, so that's an understatement," Daniels said. "The next night, we started off all right in the first. If anything, we had the better of the play and then didn't have a great finish to the game."
Being swept by the No. 18 nationally-ranked Broncos in the first weekend of play was just the start, as the Bulldogs faced a rollercoaster of emotions in back-to-back home games against Mercyhurst University (Pennsylvania).
On Friday, Oct. 19, and Saturday, Oct. 20, the Bulldogs hoped to regain the stature they showed before the season began. The Bulldogs had no problem on Friday night securing their first win of the season with a score of 5-2, outshooting the Lakers 41-23.
Saturday was a different story, however. The Bulldogs had a slow start, allowing two first-period goals, as well as one in the third, and failed to score until the third period, leading to a 3-1 loss.
"You can't come back from a 4-0 start. I mean, it was too bad of a start. We started playing good in the second and third, I think we carried the play that night," Ferris senior forward and captain Corey Mackin said. "Then, Saturday, we just straight up got outplayed and we knew it. We were all pissed off. We showed it this week in practice. We battled hard and it kind of showed tonight that we were playing frustrated and we wanted to get the first win."
Ferris hockey returns home to face Alaska Anchorage 7:07 p.m. Friday, Oct. 26, as they start Western Collegiate Hockey Association play.