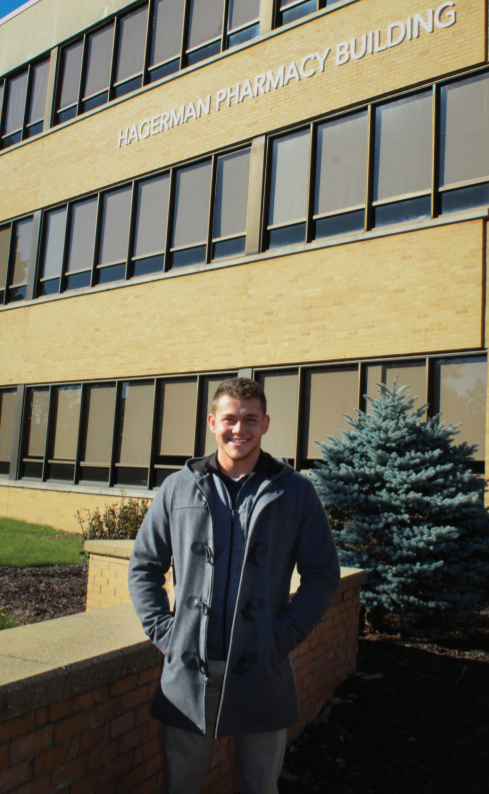 After three years of hard work, Ferris pre-pharmacy junior Nikota Redmond has been accepted into Ferris' pharmacy school.
Redmond became passionate about becoming a pharmacist when he saw his dad unable to walk after cracking three vertebrae. The road to recovery and seeing how his dad's medication helped heal him motivated Redmond to join the pharmacy field.
"He's my role model. It was really inspirational to see what medication can do. I want to help other people any way I could through that," Redmond said.
The road to pharmacy school was a tough one. Redmond had to sacrifice friendships, sleep and some mental stability.
"It has been extremely hard. I think a lot of the undergraduate classes are to sort of weed people out. It's a lot of studying, and you have to sacrifice things, like going out with friends and stuff. That's the hardest part, but apparently for pharmacy school, it gets even more intense, so it's good to practice those things," Redmond said.
Redmond met Ferris second year pharmacy student Kailey Cole in a peer mentor group. Their similar family backgrounds allowed them to become close.
"We both come from families that have had issues with drugs. That's what has pushed us to pursue pharmacy as a career. Nikota is a dedicated student and has worked so hard for his accomplishment with being accepted into the program," Cole said.
With the help of Cole's mentoring, Redmond was able to focus on his studies. Cole was someone that Redmond looked up to when he felt discouraged.
"I kept going through all of the studying because I wanted to help people. I remembered how my father progressed, and as a personal trainer at Beagle Fit, I see people progress all the time, so it's so cool for me to be a part of the process of people getting better. It was a very voluntary thing. If I spent a weekend not studying, I would feel horrible," Redmond said.
Redmond's work has paid off with an acceptance letter, and his father continues to be his biggest fan.
"My dad always tells me, 'I knew you were going to do something great.' That's pretty much my dad and I. We're super close, and there's nothing that we don't know about each other. I'm happy to make him proud," Redmond said.