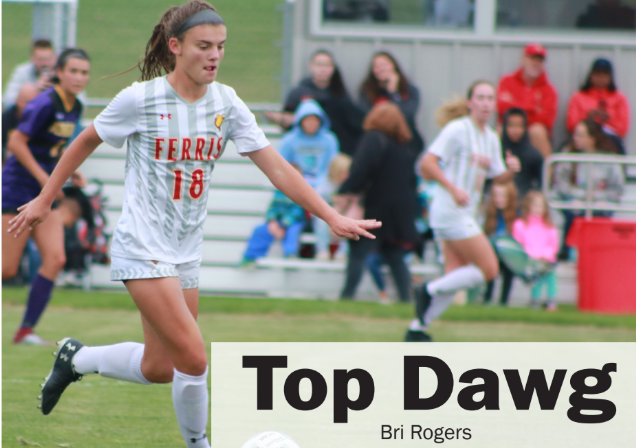 Top Dawg honors for the week are staying on the pitch as the Ferris women's soccer team faced tough conference play.
Ferris sophomore midfielder Bri Rogers secured the game-winning goal against Davenport University Sunday, Oct. 21, off a penalty kick
in the 88th minute. Rogers also scored the first goal of the day in the first half off another penalty kick. This win capped off a tough weekend where the Bulldogs went 1-1.
Friday, Oct. 19, the Bulldogs dropped their first game in 14 matches against No. 1 nationally ranked Grand Valley State University in a grueling game that went into double overtime. It was the first time the Bulldogs lost dating back to the end of August. Although the loss is tough, the Bulldogs fought hard with a historically successful team that figures to make a deep postseason run.
The Bulldogs looked to take the energy from Friday and leave it all on the field Saturday to start a new win streak. With help from Rogers, who recorded her second game-winning goal of the season, the Bulldogs were able to secure the win.
Scoring during crucial moments is nothing new for Rogers, who has six goals on the year. Earlier in the season when the Bulldogs faced tough Great Lakes Intercollegiate Athletic Conference (GLIAC) opponents Ashland University and Saginaw Valley State University (SVSU), Rogers was able to find the back of the net.
Against Ashland, she scored the second goal of the game which was crucial as the game ended in a 2-2 draw. In their next game against the No. 3 nationally ranked SVSU team, Rogers and the Bulldogs did not give up as she scored the game-tying goal in the 88th minute resulting in a 1-1 draw.
The Bulldogs soccer team finishes up regular season play as they play the Northwood Timberwolves 3 p.m. Friday, Oct. 26, in Midland.