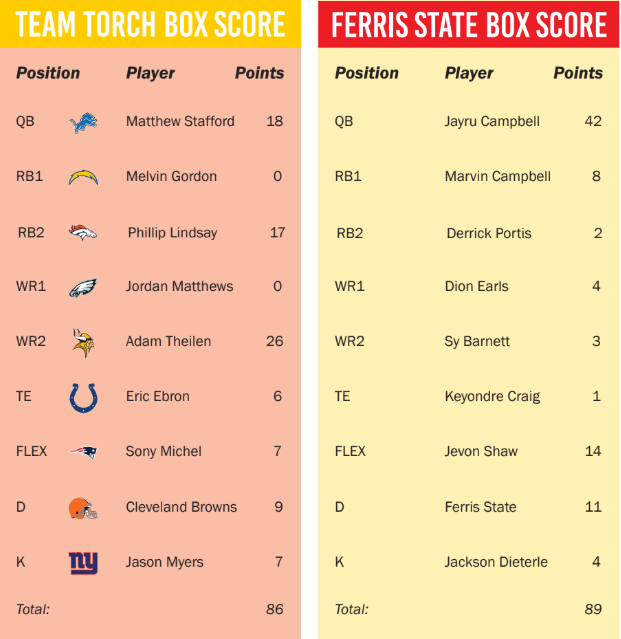 A low scoring affair this week in Fantasy Football leaves Team Torch four measly points away from a victory.
The Ferris football team faced a very good Saginaw Valley State University (SVSU) squad set on fighting their way towards the top of the Great Lakes Intercollegiate Athletic Conference (GLIAC). The Bulldogs had plans of their own, however, coming out with a 28-14 victory Saturday, Oct. 20. Twenty-eight points is a slow day for a Bulldog team that is averaging 41.1 points on the year, but they still managed to defeat SVSU.
Ferris junior quarterback Jayru Campbell continued his fantasy dominance, as he was responsible for nearly half of the Bulldogs' fantasy points as well as all of his team's touchdowns against the Cardinals.
Campbell had a mediocre performance through the air, highlighted by a 62-yard bomb to Ferris junior receiver Jevon Shaw. The ground game is where Campbell provided a spark, recording 165 yards and three touchdowns on his feet. To prove just how effective Campbell has been this season, you need only look at his team's offensive numbers. The Bulldogs have found the endzone 44 times this year on offense; Campbell has been involved in some way on 32 of those touchdowns.
Facing a 14-7 deficit heading into halftime didn't phase the Bulldog defense. The defensive unit for Ferris held the Cardinals at bay, not allowing a single point in the second half, and recording six sacks and two interceptions on the day. The six sacks for the Bulldogs was a good sign, as the team has struggled to get consistent pressure on the opposing quarterback since the departure of Ferris alumnus and current Baltimore Raven Zach Sieler.
This is just the third time in eight games that Ferris has managed more than one sack. Ferris is now 8-0 on the year and 6-0 in the GLIAC.
In Ferris Fantasy Football, however, the Bulldogs improve to 4-3 with the 89-86 victory over Team Torch. The Bulldogs will look to continue their win-streak when they take on the Wayne State Warriors 1 p.m. Saturday, Oct. 27, on Top Taggart Field.
Here are my picks for next week:
QB — Deshaun Watson — Houston Texans: Watson loves to throw the deep ball to Deandre Hopkins, so I'm expecting some big passing numbers from the second-year signal caller.
RB1 — Kareem Hunt — Kansas City Chiefs: Hunt hasn't had as big of a year as he did in 2017, but the young guy can still turn on the jets.
RB2 – Nick Chubb – Cleveland Browns: The Browns traded Carlos Hyde, so Chubb will now be the number one guy in the backfeld. Let's hope he runs wild against the Pittsburgh Steelers.
WR1 — Emmanuel Sanders — Denver Broncos: Sanders was the number one scorer in fantasy this week at the wide receiver position. I'm hoping I didn't wait too long to call his number.
WR2 — T.Y. Hilton — Indianapolis Colts: Andrew Luck picked apart the Buffalo Bills this week and Hilton was a big part of that.
TE — Michael Roberts — Detroit Lions: Head Coach Matt Patricia is starting to get the tight-ends involved in Detroit. Roberts caught two touchdown passes this week and is a big-time red zone target for the Lions.
D/ST — Washington Redskins — This team has so many pieces on the defensive side. Plus, they held Ezekiel Elliot to minimal yardage this week. A match-up with the 1-5 New York Giants looks good for them.
K — Chandler Catanzaro — Tampa Bay Buccaneers: I'm taking a risk here. Catanzaro missed two field goals this week, so I'm hoping he bounces back in a big way against the Cincinnati Bengals.
FLEX — Kenyan Drake — Miami Dolphins: Drake is a pass-catching nightmare that can burn any linebacker he matches up with.