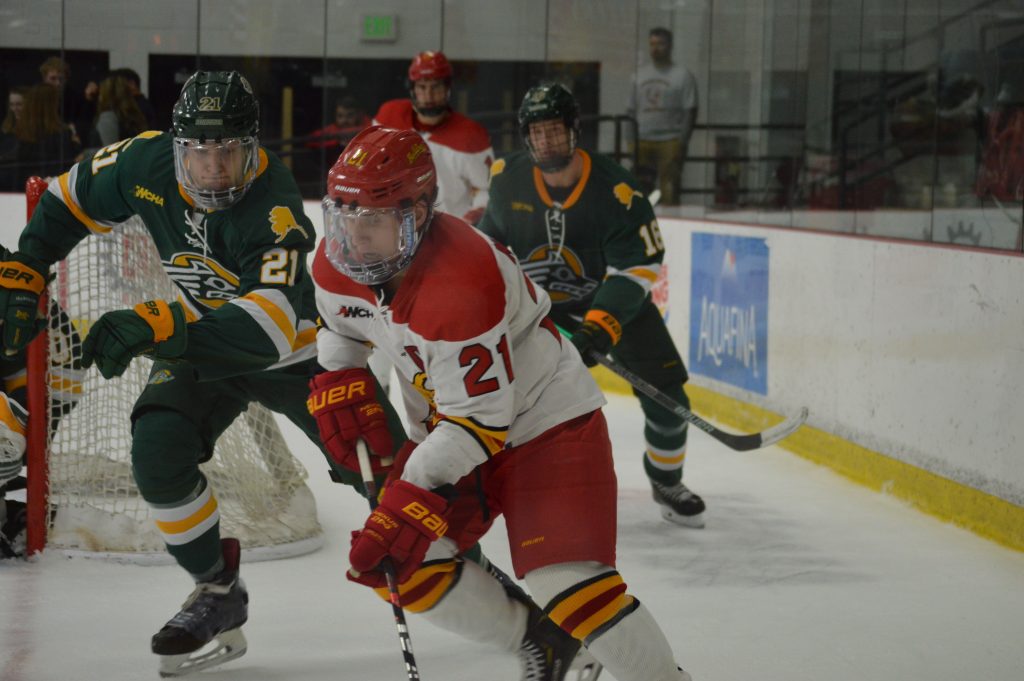 Dominating play from start to finish earned the Ferris men's ice hockey team a 4-0 victory over the University of Alaska Anchorage (UAA) Friday, Oct. 26.
Ferris freshman goalkeeper Roni Salmenkangas was forced to fill the crease with Ferris junior goalkeeper Justin Kapelmaster inactive due to an injury. Salmenkangas had an impressive performance, not allowing any goals and recording 27 saves.
"Kapelmaster is really coming along fine. He should be full-go by Monday of next week," Ferris head coach Bob Daniels said. "[Roni] is very calm. He studies hard, he's got the books open. He's here pretty much every night for two to three hours."
With Kapelmaster out for the weekend, the Bulldogs will look to Salmenkangas to keep it rolling come Saturday night.
The rest of the defense showed up for the Bulldogs as well, as they held the Seawolves at bay the entire game, forcing them to go 0-4 on power play opportunities.
Special teams were a big key to the Bulldogs' victory, as they scored three of their four goals on the power play, with Ferris forwards freshman Hunter Wendt, junior Jasen Fernsler and junior Craig Pefley finding the back of the net.
"On the power play, we were really looking good I think," Ferris junior defenseman Nate Kallen said. "My deep partner Cooper had a really good shot, and he just went in and it worked out."
A big story this season has been the play of the freshman class, with Wendt leading the team in goals scored and Salmenkangas posting the team's first shutout of the year.
"It's awesome. The freshman class is doing their part right now and it's working out," Ferris freshman defenseman Cooper Zech said. "We are definitely very close, and it helps out on the ice."
While it's easy to focus on the good for the Bulldogs, there is room to improve heading into the rematch with UAA.
"Our management with the puck has to improve," Daniels said. "It's the only object out there, I mean, there's one puck. So, when you have it, it's the whole object of the game to treat it like gold."
Ferris improves to 2-3 on the season and is now 1-0 in Western Collegiate Hockey Association play. Meanwhile, UAA drops to 2-2 on the season.
The Bulldogs will look to even their overall record and push their conference record to 2-0 when they finish their weekend series with the Seawolves 7:07 p.m. Saturday, Oct. 27 from Wink Ice Arena.