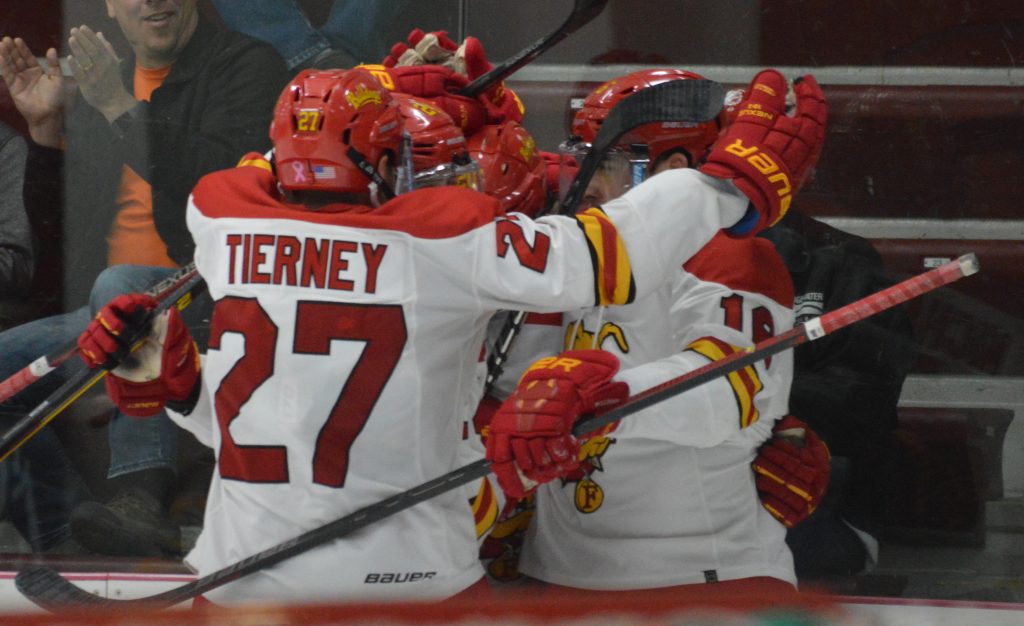 The Ferris hockey team captured their second win of the weekend against the University of Alaska Anchorage (UAA) Seawolves in a 3-2 victory.
Ferris freshman goalkeeper Roni Salmenkangas continued his stellar play in replacement of injured junior goalkeeper Justin Kapelmaster, recording 21 saves on the night.
"He's a pretty young kid for a goaltender," Ferris head coach Bob Daniels said. "All in all, I thought he had a solid weekend".
Only letting in two goals on the night, Salmenkangas lead his team to victory and extended his individual record to 2-0.
"You just have to be focused during the game," Salmenkangas said. "Every single shot, you have to be focused and that's helped me a lot to keep myself in the game."
The Seawolves got on the board first, but the Bulldogs quickly came back, scoring two goals within two minutes of each other. Ferris sophomore forward Liam MacDougall netted his second goal of the weekend in the ninth minute of play, with sophomore forward Jason Tackett adding an unassisted goal in the first period, as well.
The Bulldogs continued their aggressive play into the second period, playing lockdown defense and only allowing eight shots on goal.
Ferris senior forward Zac Tierney recorded the Bulldogs third goal halfway through the third to bring the Bulldog lead to 3-1.
The Seawolves looked to be making a comeback late in the third when they snuck a quick one by Salmenkangas with only three minutes left to play to bring the score within one. The Bulldogs shut that down quickly however, earning them their first sweep of the year.
"They played very sound defensively, they stayed out of the penalty box," Daniels said. "Tonight, it was fun, and we had all four lines going and so at no time did we have to worry about shortening the bench or not playing certain guys. We were able just to keep rolling."
The win evens the Bulldogs' overall record at 3-3 on the year, but more importantly shoots them to the top of the Western Collegiate Hockey Association (WCHA) with a 2-0 record.
The Bulldogs will play next in East Lansing as they take on Michigan State University 7:07 p.m. Friday, Nov. 2.