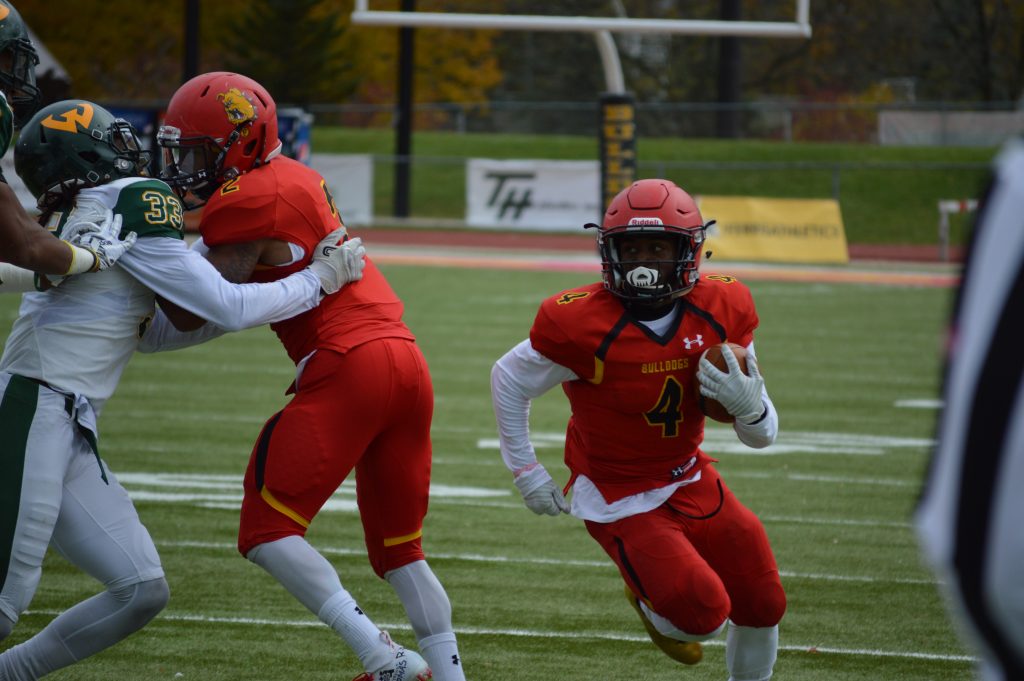 CORRECTION: The original article stated that Ferris football claimed a spot in the Great Lakes Intercollegiate Athletic Conference (GLIAC) Tournament. The GLIAC does not host a tournament. Instead, the team with the best record claims the GLIAC championship. The article has since been corrected.
The Ferris football team squeaked out a close 38-28 victory over the Wayne State University Warriors Saturday, Oct. 27, clinching at least a portion of the Great Lakes Intercollegiate Athletic Conference (GLIAC) Championship title.
The Bulldogs returned to Top Taggart Field in front of 3,103 fans for their first home game in nearly a month, grabbing a hard fought contest between two efficient offenses.
The Bulldogs started strong, getting on the board in the first five minutes of play with a touchdown pass from Ferris junior quarterback Jayru Campbell to Ferris junior receiver Dion Earls.
The Warriors were able to come back quickly and tie the game, but the Bulldogs ended the first quarter with a 10-7 lead with the help of a 27-yard field goal from Ferris junior kicker Jackson Dieterle.
Each team managed to score twice in the second quarter, but Ferris' offense looked more impressive as Campbell trotted to pay dirt on a 57-yard run. The Bulldogs also scored with just six seconds remaining before halftime as Campbell connected with Earls again for a three-yard touchdown.
With a 24-21 lead coming out of the lockers, the two teams continued the back-and-forth scoring affair in the third quarter, but the Bulldogs pulled away in the fourth. Campbell connected with Ferris sophomore receiver Miles Jones to give the Bulldogs a 10-point lead and send the home crowd home happy.
Ferris remains unbeaten at 9-0 with the victory and improves to 7-0 in the GLIAC. Wayne State drops to 2-7 on the year.
The Bulldog stay home again to face Davenport University 3 p.m. Saturday, Nov. 3.