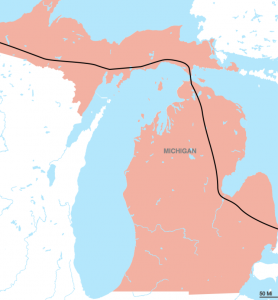 After being in place since 1953, Line 5 has become a controversial topic between candidates for Michigan's 2018 gubernatorial election.
The Line 5 pipeline runs from Superior, Wisconsin, through Michigan and the Straits of Mackinac, and ends in Sarnia, Ontario, Canada. These lines, part of a larger pipeline system between Canada and the U.S., carry crude oil from sources in northern Canada into the upper Midwest and southern Canada.
"I think [a spill] would be devastating because we rely so much on the Great Lakes," Ferris pre-science sophomore Abby Smith said. "The lakes are one of our biggest resources. Maybe if we could redirect it, if possible, that would be OK. Keeping it around may cause more problems."
Line 5 has become a topic of discussion this year during the gubernatorial race. Governor nominees Republican Bill Schuette, Democrat Gretchen Whitmer and Independent Bill Gelineau have spoken about Line 5 and their plans for its operation once they are elected.
"An oil spill in the Great Lakes would be absolutely devastating to our environment and our economy," Whitmer said.
Whitmer is in favor of shutting the pipeline down, having said Michigan can't afford to wait for disaster to strike.
In an interview with Michigan Radio, Schuette said, "I'm a problem solver, and I laid out a plan, and it concerns, number one, let's build a tunnel in alternative to the 4.5-mile Straits of Mackinac where there are some pipelines now."
Through a statement on his official website, Gelineau said "at minimum, we should require Enbridge to engage the best practices to prevent any problems from occurring and make sure they have the means to make it right should something happen."
Enbridge, Inc., the Canadian corporation that operates and maintains the Enbridge Mainline system, reports that Line 5 delivers up to 540,000 barrels of "light crude oil, light synthetic crude and natural gas liquids, which are refined into propane." Enbridge also reports that, as of June 2016, Line 5 supplies 65 percent of propane demand in the Upper Peninsula and 55 percent in the Lower Peninsula.
Line 5 and the Enbridge Mainline system have not been without problems, though. According to the National Wildlife Federation, the pipeline has leaked at least 1.1 million gallons of crude oil into the Great Lakes since 1968. In July 2010, a separate line in the Enbridge Mainline system, Line 6b, leaked over 840,000 gallons of oil into the Kalamazoo River, creating the largest inland oil spill in the history of the U.S.
Ferris students are concerned about the pipeline, and for the effects it can have on Michigan's environment.
"I don't think it's good for the environment, and it's not good for the wildlife," Ferris information security sophomore Zach Harris said. "If something were to leak into the straits, it could have a whole domino effect on the whole environment, and the runoff effect could be bad. Depending on where it's at, it could do some damage."
In a study done by the Groundwork Center for Resilient Communities in May 2018, researchers said that because of Line 5's age and the large amount of oil that is sent through the pipeline daily, "No successful business person would continue in an arrangement that massively risks a vital asset, while the other party in the deal receives nearly all of the financial benefit."
Ultimately, whoever is elected to Michigan governor this November will have to make a choice concerning Enbridge, Inc., and Line 5: whether to keep the pipeline in operation, or to close the line down and prevent further oil spills. It also falls upon Enbridge, Inc, to maintain the pipeline and ensure no further leakage occurs within the Straits of Mackinac and the Great Lakes at large.
Click here to read more from our news section.