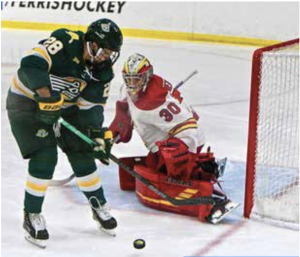 Ferris freshman goaltender Roni Salmenkangas got the nod Friday, Oct. 26, to head in net after Ferris junior tender Justin Kapelmaster was ruled out with an injury.
Salmenkangas has started in net three games so far this season, only allowing four goals and has tallied up 69 saves. In every match Salmenkangas has begun, the Bulldogs secured the win.
Salmenkangas recorded his first career shutout against Alaska Anchorage Friday, stopping 27 shots on goal. The Finnish goaltender seemed to be cool, calm and collected in net as he stopped everything coming his way.
When Salmenkangas got the second straight start in net Saturday, Oct. 27, he had yet another stellar performance, stopping 21 shots out of the 23 he faced. Although it was not a shutout like the night before, Salmenkangas' ability to stand tall in net is a good sign for the Bulldogs who were looking for a steady counterpart to Kapelmaster.
Salmenkangas is from the city of Tampere, which is in Pirkanmaa, the southern part of Finland. Before he came overseas to play for Ferris, Salmenkangas played in Finland, where he played for Hämeenlinnan Pallokerho (HPK) U20 team. During the 2017-18 season, he posted 1.58 goals against average in the 45 games he appeared in. His team got the honors to play during the playoffs but lost during the quarterfinals.
At 19 years old, Salmenkangas has a lot of room to grow and be molded into a star goaltender. With Kapelmaster being a junior this year, it gives Salmenkangas time to improve his game and follow in the footsteps of the great goaltender that Kapelmaster is.
Salmenkangas and the Bulldogs will be back in action as they travel to East Lansing 7:07 p.m. Friday, Nov. 2, to take on Michigan State University.