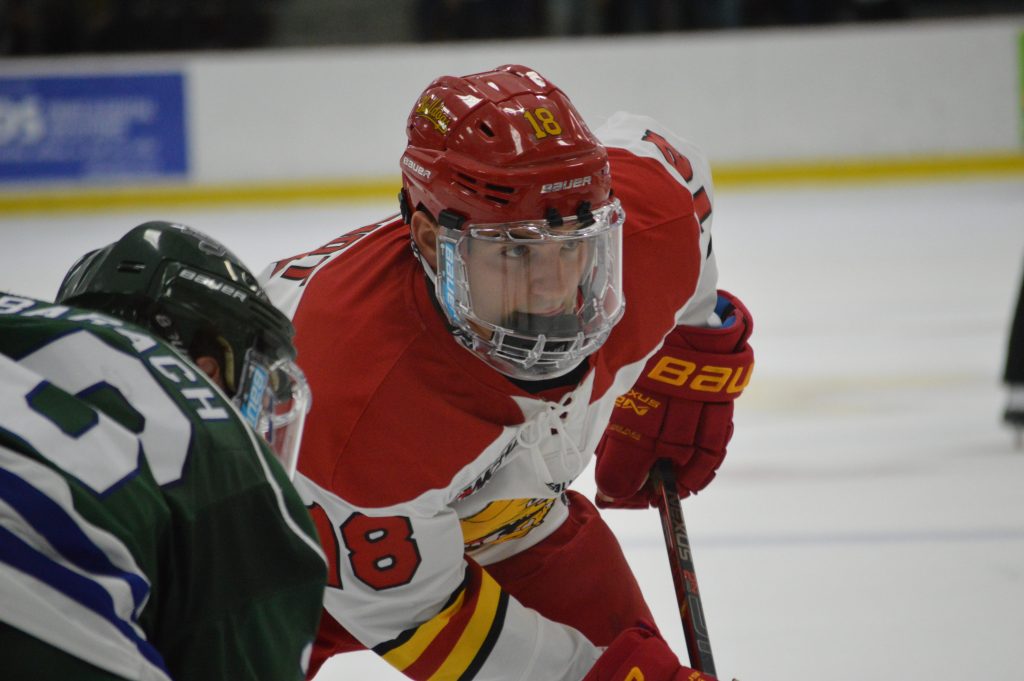 Leaving a legacy is a difficult thing to do, but a former Ferris hockey player and his son are doing just that.
Ferris freshman forward Hunter Wendt has already brought a positive impact to the Ferris hockey team, accumulating four points in the five regular season games he has appeared in. If you know the history of Ferris hockey, the last name Wendt may sound familiar and that is no coincidence. Hunter's father, Tim Wendt, played forward for the Bulldogs from 1981-85.
Tim played under head coach Rick Duffett, where he posted 68 points in the 126 games that he dressed for. The overall record for the Bulldogs during his time at Ferris was 55-77-10, which may not seem like an outstanding record, but was a stepping stone to what the program has become.
"It was a great experience for me. Coach Duffett gave me a great opportunity to come on board and play hockey at Ferris back in the day," Tim said. "It was young in its early stages. They just have gotten into CCHA DI [Central Collegiate Daniels Hockey Association Division I], and the program was really taking off, and I was there at the right time. I was able to watch it grow to where it's at today. It's just unbelievable."
Growing up, Hunter was influenced by his dad greatly, whether Tim was coaching Hunter at a young age or even helping him practice his shots in the driveway. Having a positive father figure like Tim helped mold Hunter into the person he is today and pushed him to be the best he could be.
"He would talk about it when I started talking to schools," Hunter said. "He obviously brought up Ferris State and I thought it would be a dream of mine to come here, and for it to actually happen, it's been amazing."
It seems the Bulldogs think highly of Hunter, as he usually sees top line minutes playing alongside teammates Corey Mackin, Coale Norris and Marshall Moise. Ferris head coach Bob Daniels knew Hunter's dad played for the Bulldogs back in the day, but that was not the only reason why they pursued him.
"It's one of those things that we'll note," Daniels said. "When we went and watched Hunter, we walked in and said, 'Oh, here's the son of Tim Wendt,' so you watch and see if he's any good and then we saw that we kind of liked him."
Friday, Oct. 19, and Saturday Oct. 20, was parents' weekend, so the Wendt family trekked to Big Rapids where Tim was able to watch his son play on his old stomping grounds. Hunter had a breakout game on Friday, scoring two goals in a game that wasn't special just for himself, but touched the heart of his father, as well.
"It was incredible. It's a huge honor," Hunter said. "I'm pretty sure he was pretty happy with Friday and Saturday; not so much Saturday, but it was cool. I got to play in front of him for the first time, and he was really happy."
It is hard to determine who was more excited about Hunter's great game, however, as Tim was in the stands watching.
"We were ecstatic. It was unbelievable. You know, one of those life moments that you cherish forever," Tim said. "You see your son that you've watched play hockey throughout his career, going to the school that I played at. It's just incredible. I'm so happy."
Hunter and the Bulldog hockey team are back in action as they face off against Michigan State University 7:07 p.m. Friday, Nov. 2, in East Lansing.