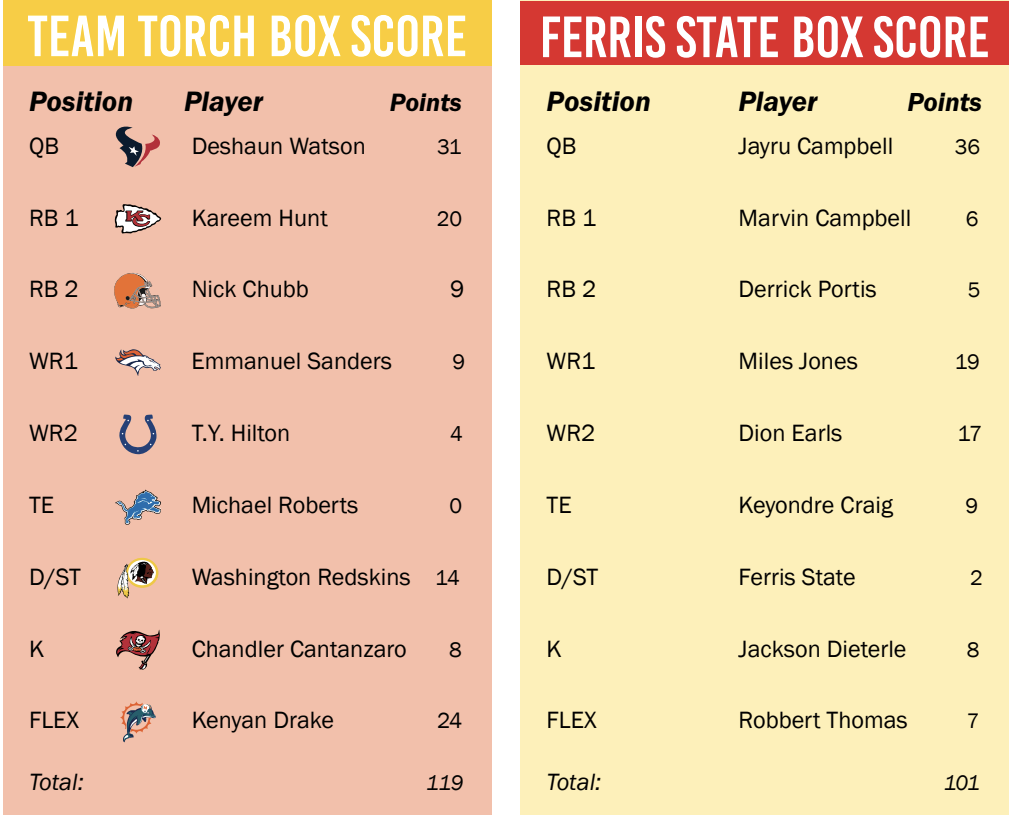 Team Torch and Ferris football team continue to trade wins in fantasy football, and this week, it's Team Torch's time to shine in a 119-101 victory.
Ferris junior quarterback Jayru Campbell racked up 36 points with his five-touchdown performance against the Warriors. While Campbell did put up big numbers, he struggled to hold onto the football as he gave the ball away three times — twice on interceptions and once on a fumble.
Giving the football away has been a rarity for Campbell, only throwing four interceptions on the season and fumbling three times. Saturday marked his first multi-interception performance.
Ferris sophomore wide receiver Miles Jones had a breakout game, hauling in five catches for 83 yards and a touchdown. The Bulldogs needed a big game from a receiver other than Ferris redshirt freshman Sy Barnett.
Speaking of Barnett, where is he? After three straight games with over 100 yards receiving and a touchdown, Barnett has caught just one pass in the last two games.
Ferris junior receivers Jevon Shaw and Dion Earls are beginning to take turns manning the "Swiss Army Knife" position for the Bulldogs. Earls takes the crown this week with a two-touchdown performance.
Flipping to the defensive side of the ball, it wasn't the best effort for Ferris. The defensive squad allowed 28 points and struggled yet again to get to the quarterback, recording just one sack. Ferris junior linebacker Delon Stephenson continues to shine bright for the Bulldogs, grabbing his sixth interception of the year.
The Bulldogs jump to 9-0 on the season and are guaranteed at least a share of the Great Lakes Intercollegiate Athletic Conference (GLIAC) title. For Team Torch, they even the score in fantasy football to 4-4 with just two regular season games remaining before we enter the playoffs.
Ferris will return to Top Taggart Field 1 p.m. Saturday, Nov. 3, when they take on Davenport University.
Here are next week's picks:
QB — Russell Wilson — Seattle Seahawks: Wilson is a shift quarterback that can throw and run. A nice dual-threat with big play potential.
RB1 — Lamar Miller — Houston Texans: Miller doesn't get enough credit for what he does in the Texans offense. A reliable ball carrier is just what Team Torch needs.
RB2 — Alvin Kamara — New Orleans Saints: Kamara is now the stand-alone starter in the Saints' backfield. I'm expecting at least 150 yards of total offense from him this week.
WR1 — Josh Doctson — Washington Redskins: Doctson is the number one guy for Alex Smith. I 'm hoping for a multi-touchdown game.
WR2 — Equanimeous St. Brown — Green Bay Packers: St. Brown has arguably the best name in the league. Let's hope he can have the best game as well this week.
TE — Hayden Hurst — Baltimore Ravens: Hurst is the tight-end the Ravens have been looking for. The rookie will see plenty of deep balls from Joe Flacco this week.
D/ST — Kansas City Chiefs: Dee Ford has found his niche as a pass rusher for the Chiefs. I expect him to create havoc for Baker Mayfield.
K — Greg Joseph — Cleveland Browns: Joseph has done well in his first year as the Browns' starter. He will see plenty of action when the Browns take on Kansas City.
FLEX — Calvin Ridley — Atlanta Falcons: Ridley has been the rookie sensation in Atlanta, quickly earning the trust of Matt Ryan.