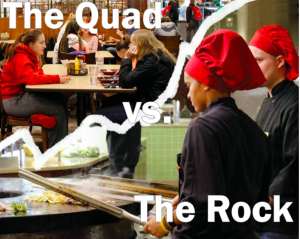 According to students around campus, the dining halls at Ferris might not be as great as they seem to be at first glance.
Ferris pre-pharmacy freshman Megan Hastings, who prefers to eat at the Rock, said the dining halls seemed great when she first got to campus. Now, after being on campus for just a few months, Hastings realized she may have been mistaken.
"At first I thought the food was good," Hastings said. "Now it's getting kind of old."
Ferris social work sophomore Kaylee Keena agreed. Due to this, Keena often finds herself cooking her own meals.
"The food is very repetitive. Sometimes when I go there I feel like there's nothing there that I actually want to eat," Keena said. "I like grocery shopping because I can choose what I want to make to eat."
Not only is the food failing to meet some student's expectations, but students also believe that the area being used for the Quad is too small.
Though Keena prefers the Quad over the Rock, she said that the café is often filled with students during lunch time, and it can be hard to enjoy a meal.
"There is definitely not enough space at the Quad, especially during lunch," Keena said. "I always feel very overwhelmed and it's hard for me to find a place that I can actually sit."
Ferris pre-pharmacy junior Laura Hunt agreed, and said that if there was one thing she could change about her favorite dining hall, it would be the size.
"The Quad could definitely be bigger. It gets crowded at lunchtime," Hunt said. "Between noon and two, it's jam packed."
Ferris communications freshman Carlina Edmonds said not only was the Quad too small, but that it also doesn't have that much food variety. Due to this, she favors eating at the Rock.
"I prefer to eat at the Rock. They have different food varieties all the time," Edmonds said. "Plus, the Rock is much roomier than the Quad."
Last year, Ferris gave out free food take out containers to students, so that students could use them to easily bring back meals to their dorm. This year, Ferris decided to sell the containers instead of just giving them out. Although the cost is only $7, some students think the container should come complimentary with a meal plan.
"We're paying to eat and we have a meal plan," Edmonds said. "So we shouldn't have to pay to take food back to our dorm, too."