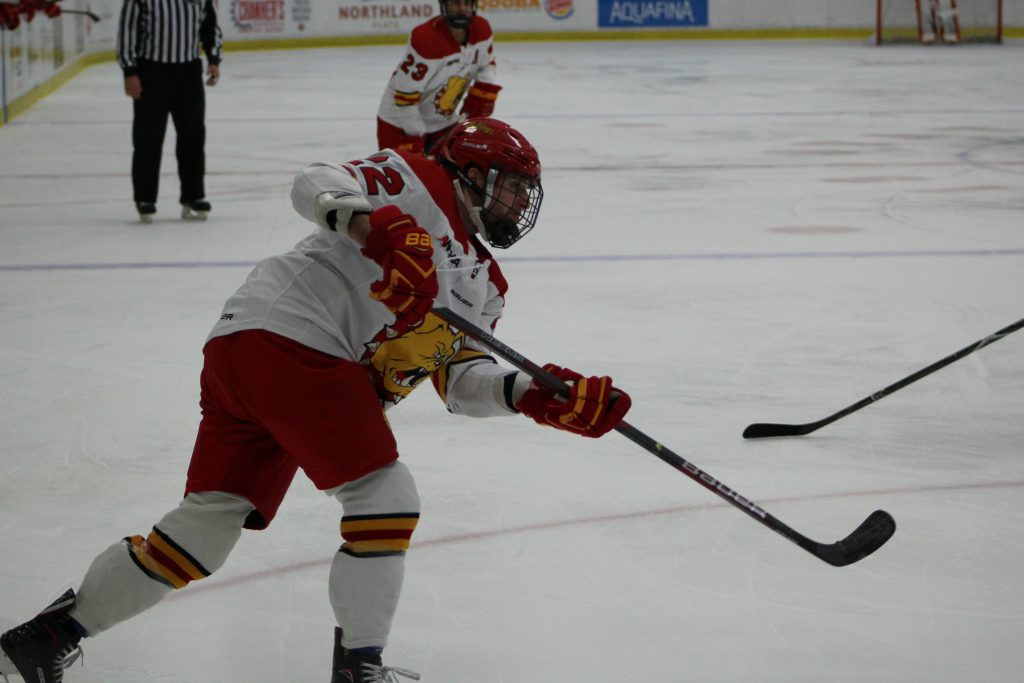 The Ferris hockey team continues to struggle outside of Western Collegiate Hockey Association (WCHA) play.
The Bulldogs headed to East Lansing Friday, Nov. 2 to take on the Michigan State University (MSU) Spartans in front of a large crowd of 5,299 fans, coming away with a 5-3 loss.
Two periods of poor play for the Bulldogs led to the loss as the Spartans recorded three goals in the first period and another in the second. Ferris failed to score until the third period.
MSU junior forward Patrick Khodorenko was a force to be reckoned with on the Spartan's home ice, recording a hat-trick with a goal in each period and assisting MSU sophomore forward Mitchell Lewandowski on his first period goal.
Ferris' offense finally caught fire in the third period when freshman forward Hunter Wendt netted back-to-back goals. Wendt has been the leader of a talented freshman class for the Bulldogs, leading the team in goals with five on the season.
The Bulldogs looked to be making a comeback, but Khodorenko netted his third goal of the game in the powerplay to end Ferris' chances. Ferris junior forward Jason Tackett scored a consolation goal before the end of regulation, bringing the final score to 5-3 in favor of MSU.
Ferris junior goalkeeper Justin Kapelmaster struggled in the crease, saving eight shots and allowing three goals before Ferris freshman goalkeeper Roni Salmenkangas replaced him. Salmenkangas played 41 minutes, recording 17 saves and allowing two goals.
Salmenkangas may be gunning for the No. 1 goalkeeper spot for the Bulldogs, as he has bested Kapelmaster in all major categories so far this season. Kapelmaster currently has an 0-4 record, allowing 4.44 goals against average, 93 saves and an .877 save percentage. Salmenkangas stands at 3-0 with 2.0 goals against average, 88 saves and a .917 save percentage.
With the loss, the Bulldogs move to 3-4 overall while MSU improves to 4-1. Luckily for the Bulldogs, the loss will not affect their WCHA record as they remain 2-0 in conference play.
Ferris will look to make immediate improvements as they travel back home to take on the Spartans 7:07 p.m. Saturday, Nov. 3, inside Jim Wink Ice Arena.