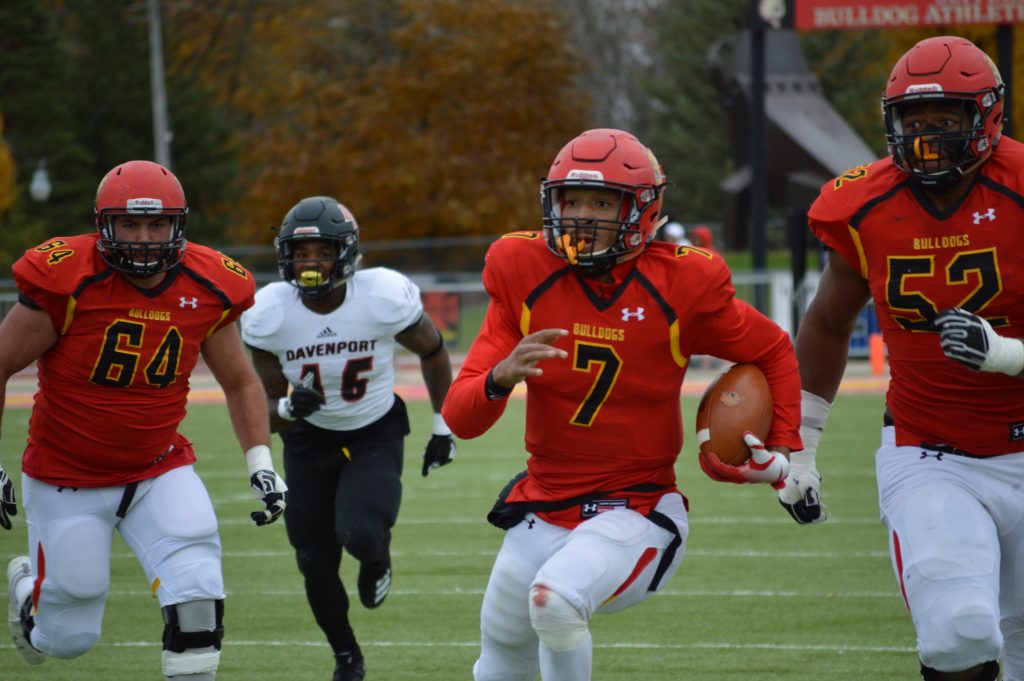 Ferris men's football earned the Great Lakes Intercollegiate Athletic Conference (GLIAC) championship title for the third time in five years with a 41-17 victory over Davenport University.
The No. 2 nationally ranked Bulldogs came into Saturday, Nov. 3, with a 9-0 record, ready to take on the DU Panthers, who stood at 6-4 overall.
"Well, we were hoping to have a fast start," Ferris football head coach Tony Annese said. "You know, we felt like Davenport was a really dangerous team. We had to get a fast start and be at our best early in the game and I felt like we were."
Ferris junior quarterback Jayru Campbell was responsible for both of the Bulldogs' first quarter scores, connecting with redshirt freshman receiver Sy Barnett for a 43-yard touchdown pass and running the ball in from 46 yards out.
Barnett resurfaced for Ferris' offense, catching three passes for 77 yards and a touchdown.
"He's a great player," Ferris senior receiver Keyondre Craig said. "He makes a lot of plays down the field, so it helps out a lot for everybody else. We just get better every week."
The Bulldogs' defense jumpstarted the offense with two sacks in the first half from Ferris sophomore defensive end Parker Underwood and Ferris sophomore defensive tackle Austin Simpson. Ferris had a ton of momentum in the second quarter, however, when redshirt freshman defensive back Jovan Bayless recovered a fumbled punt recovery.
After the recovery, the Bulldogs outscored the Panthers 28-14, allowing a touchdown in both the third and fourth quarters.
Campbell was a star once again for the Bulldogs, going 10-17 on his passes for 142 yards and two touchdowns. Campbell also found room on the ground, running for 145 yards and two touchdowns, setting a record for single-season touchdowns with 24.
Ferris moves to 10-0 overall on the season and finishes 8-0 in the GLIAC. The victory gave the Bulldogs the best record in the GLIAC, earning them sole possession of the GLIAC Championship since 2014.
The Bulldogs have one game remaining in the regular season, but figure to have tied up home field advantage in the NCAA DII playoffs.
The Bulldogs will travel to Missouri 1 p.m. Saturday, Nov. 10, to take on William Jewell University in the regular season finale.