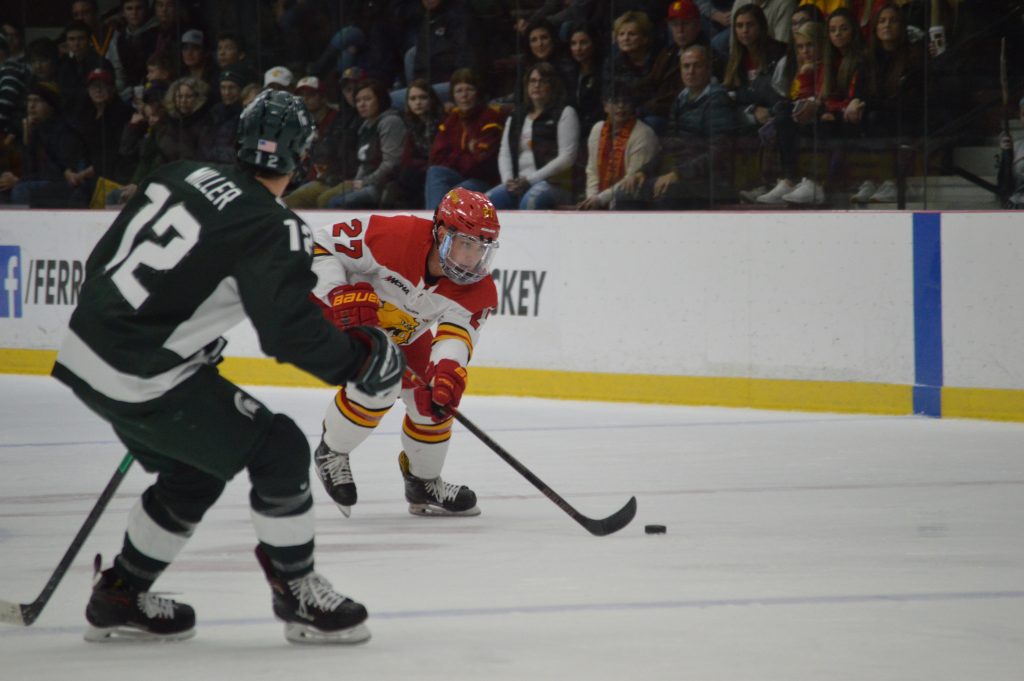 After a tough 5-3 loss Friday, Nov. 2, the Ferris hockey team took the energy from a sold-out home crowd of 2,490 and skated past the Spartans of Michigan State University (MSU) Saturday, Nov. 3.
Ferris freshman goaltender Roni Salmenkangas got the nod to start in net after junior goaltender Justin Kapelmaster suffered from an injury the night before. Just like his previous three starts, Salmenkangas stood tall in net and led his team towards victory, improving his individual record to 4-0.
The Spartans entered the game with an overall record of 4-1, with their sole loss being from Western Collegiate Hockey Association (WCHA) team Northern Michigan. Ferris looked to be the second WCHA team to bring down the Spartans, and that is exactly what they did.
"We thought we had to be stronger on our sticks. I thought they were heavier on pucks last night than we were," Ferris head coach Bob Daniels said. "I do feel like our strength on sticks was a lot better tonight."
The first period saw Ferris outscore the Spartans 2-1 on goals from junior forwards Jasen Fernsler and Oskar Andren.
The Bulldogs gained momentum 10 minutes into the second period when Ferris sophomore forward Liam MacDougall sent a laser that MSU goaltender Drew Deridder never saw coming, increasing the Bulldog lead to two. Just moments after, the Bulldogs got their third goal of the night from Ferris freshman forward Jake Transit, taking advantage of an MSU goaltender who fell on the ice after one of his teammates skated into him.
With a 4-1 lead in the third period, the Bulldogs wanted to maintain the lead and play tight defense. Although the Bulldogs did not score during the third, they ended the game with a 4-1 score in their favor, sending them to the lockers with their fourth win on the year.
A weekend split with an opponent outside of the WCHA puts the Bulldogs at 4-4 overall on the year. The Spartans fall to 4-2 with the loss.
The Bulldogs are back home 7:07 p.m. Friday, Nov. 9, and Saturday, Nov. 10, as they look to add to their early 2-0 record in the WCHA when they face the Michigan Tech. Huskies.