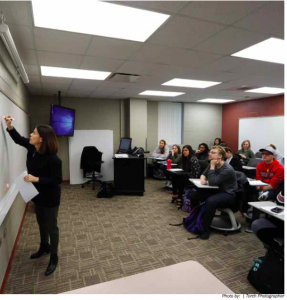 Every Ferris freshman is required to take a one-credit seminar course, but some feel the experience is unnecessary.
The mandatory class is called Ferris State University Seminar (FSUS). Students in the Honors Program must take the equivalent Orientation to Honors version, HNRS 100.
The main objective of the course is to introduce resources, both on campus and online. Students are taught to use Ferris weblinks such as MyFSU, MyDegree and Blackboard. They are also exposed to campus tools such as the Writing Center.
Ferris marketing junior Rashaun Heaston took FSUS and said that although the material was mostly common sense, a couple aspects were helpful.
"Maybe the scheduling, my teacher helped me with scheduling. Being more organized, that's about it really. I think it was common sense," Heaston said. "It's a waste of money, really. If anything, it should be free."
Orientation to Honors is similar to FSUS but includes some added objectives.
"They have to do with understanding the honors requirements and why they exist, and how you fulfill them and how you report them. We also have a selection of readings in our textbook, which is the student handbook, that are supposed to be discussed in Honors 100 and those contextualized requirements as well," Ferris Honors Program Director Dr. Peter Bradley said.
Ferris pre-optometry sophomore Jessica Bernhardt is an honors student who took HNRS 100 her freshman year.
"I think that it helped with some parts of learning about registration mostly and getting to know my adviser because my teacher for it was my advisor at the time, but I think that it was a lot of ller if I'm honest," Bernhardt said.
Ferris Director of Student Academic Affairs Shelly VandePanne said this system has been in place since 2002 previously this course was not required for everybody, but retention rates were higher among students who completed it, according to VandePanne.
"About 70 percent of the colleges and universities across the nation are requiring some type of first year seminar," VandePanne said. "We're helping them to adapt to college life, prepare for present and future success and engage with the campus and community."
Honors students can potentially see even more course material in the upcoming spring semester.
"We're going to add a three-credit course that is synced to it. The idea is to get some of those readings and the academic content into a full-fledged three-credit course," Bradley said.
The new three-credit course is called HNRS 190: "Why Honors?" and Bradley said it will still contain orientation content paired with academic aspects. It will be offered 9 – 10:15 a.m. Tuesdays and Thursdays during Spring 2019.