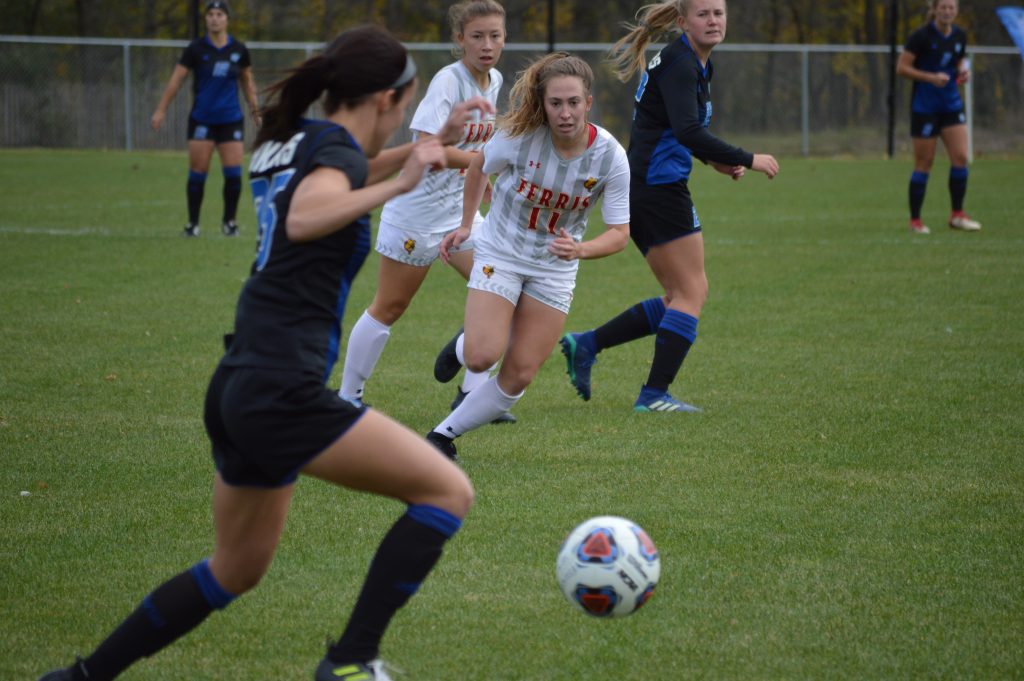 The Ferris women's soccer team was unable to capture the Great Lakes Intercollegiate Athletic Conference (GLIAC) Championship, falling 4-0 to the Grand Valley State University (GVSU) Lakers.
The Bulldogs headed to Allendale Sunday, Nov. 4, in front of a crowd of 410 for their first ever GLIAC Championship appearance, capping tournament play with a shutout loss.
Ferris was hoping to battle the Lakers as closely as they did when the teams met in the regular season, ultimately leading to a 2-1 Bulldog loss. That didn't happen, however, as GVSU held Ferris from scoring.
Three quick goals scored in the first half put the Lakers up quickly. GVSU freshman forward Raemi DeWent hit the net first at 27:51, followed by a penalty kick goal by GVSU junior midfielder Riko Sagara at 28:12. GVSU sophomore forward Ava Cook found the net at 29:41 to end scoring for the first half.
The Lakers played defensively in the second half, keeping the Bulldogs away from the net. GVSU did score once more near the end of the game, as GVSU sophomore forward Caitie Baron found the net to finishing the game off at 4-0.
Ferris deployed two goalkeepers throughout the course of the game; Ferris junior goalkeeper Grace Kraft made three saves, while Ferris junior goalkeeper Alison Chesterfield recorded one.
A tough loss brings the Bulldogs to a 15-3-3 record on the season, while the Lakers remain undefeated at 20-0-1. Both teams will earn berths into the NCAA DII playoffs, the first time in school history the Bulldogs have done so.
"I think everyone is so determined and willing to put in any work it will take for this post-season, since we have been so successful this season. We have broken a few records already, and it has been such an incredible feeling, but I don't think anyone is content with that. We want to go all the way," Ferris junior midfielder Maddie Fouts said.
Official pairings for the NCAA DII playoffs will be announced 6:30 p.m. Monday, Nov. 5. Fans can watch the official NCAA Selection Show on NCAA.com.