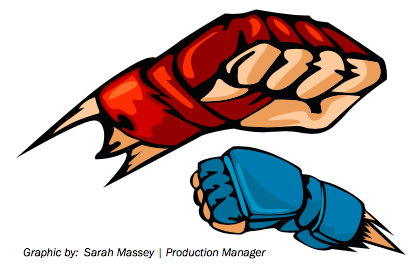 The Mixed Martial Arts (MMA) club has been inactive since 2017, but this year, Ferris digital media and history junior Stephen Bottke is working to change that.
Bottke said that MMA has had a formative impact upon his life, as has been practicing the sport since he was 16.
"It is the game in life that I love the most," Bottke said. "It is the thing in life I enjoy doing physically the most. It just makes me happy. I think it's one of the most useful life skills a person can have."
The club, which meets every Tuesday and Friday, from 7 to 8:30 p.m. in the Aerobics Room at the Student Recreation Center, was planning on meeting Tuesday, Oct. 23. However, due to technical difculties, Bottke used word-of-mouth to get his message around campus, but it was less successful than Bottke hoped.
"It was an utter failure last week because there was no advertising," Bottke said. "I was concerned it would be a repeat this week."
However, around 20 students attended the meeting on Tuesday, Oct. 30, more than what Bottke was expecting.
"I'm absolutely giddy. I was willing to settle for having four or ve people here, so having much more than my best expectations is a really good night," Bottke said.
Ferris criminal justice sophomore and club member Zach Olive said the club is helpful to his future career and is overall enjoyable.
"I'm in criminal justice, so being able to ght is a big part of my job. As soon as I hit my teen years and got into criminal justice, I started taking classes and learning hand-to-hand combat skills and sparring with friends," Olive said. "Also, hitting stuff is fun."
Any Ferris student can join the Mixed Martial Arts club, regardless of previous experience with MMA. The club is looking to provide students with training partner and expertise.
Ferris allied health sonography sophomore Suzan Roach attended the meeting and wanted to join the club for self-defense.
"Being a woman walking along in the dark, being able to have that in your back pocket just in case is nice," Roach said. "It's really cool to be able to get into it in college and have people the same age that are at your same learning level."