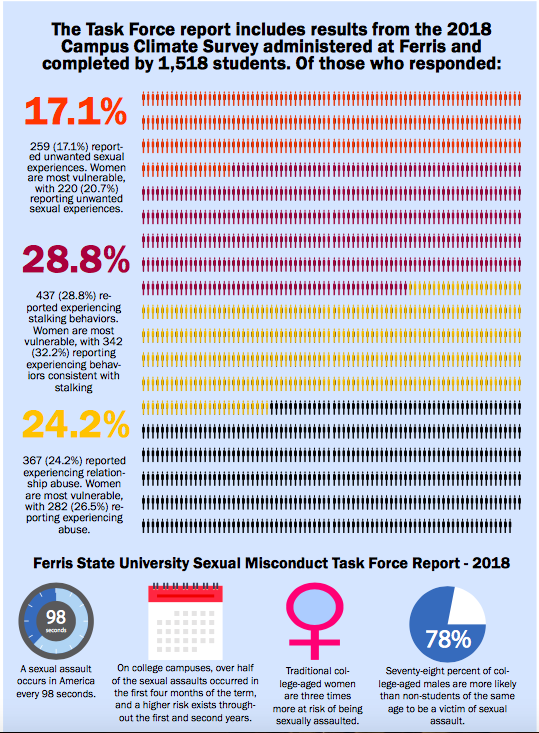 The Sexual Misconduct Task Force released the results of their climate survey to measure sexual violence at Ferris, and the results concern many students.
The 2018 Campus Climate Survey was administered to 1,518 Ferris students. The results showed that 259 (17.1 percent) of students reported unwanted sexual experiences. Within that group, women are the most vulnerable, with 220 (20.7 percent) reporting adverse sexual experiences.
"The numbers are a lot higher than I thought they would be, so it's just kind of eye-opening. I feel less safe, but not unsafe, if that makes sense," Ferris nursing freshman Morgan Edstrom said.
The rates are below the national average for the prevalence of sexual violence at college campuses and decreased from 2016, but the numbers are still significant, Ferris Dean of Student Life and Interim Title IX Coordinator Joy Pufhal said.
According to federal law Title IX, "No person in the United States shall, on the basis of sex, be excluded from participation in, be denied the benefits of, or be subjected to discrimination under any education program or activity receiving federal financial assistance."
Sexual misconduct on college campuses is included under Title IX, which, along with the investigation at Michigan State University regarding Larry Nassar earlier this year, prompted the issuing of the survey and a complete review of sexual assault policies.
Pufhal served on the task force. The survey began in 2016 and is administered every two years in the spring, with this being the second year of participation at Ferris, Pufhal said.
"Building awareness of sexual violence is part of our overall anti-violence prevention education program, and our goal is simple: to stop it from happening," Pufhal said.
The full task force report can be found on the Title IX page of the Ferris website. The task force found 14 gaps total: seven gaps in policies, four in education and three different gaps.
One of the primary education gaps was internal education, and the university is implementing a series of educational offerings, beginning Wednesday, Nov. 14, with a presentation by speaker Scott Lewis, according to the President's Message to Campus email.
The results of the survey indicated that 1 in 5 of female Ferris students reported unwanted sexual experiences, 1 in 3 reported experiencing stalking behaviors and 1 in 4 experienced relationship abuse.
"I think when people see numbers, they actually realize how many people go through problems like this," Ferris social work freshman Haley Leppert said. "Being a social work student, we kind of talk about these things, so to me, it wasn't really a shock. But I think to some others who aren't really aware, they might be kind of surprised with the numbers."
Some students believe that although the numbers are down from two years ago, steps still need to be taken to address this issue.
"I think it is important to see what people are experiencing on campus. This is definitely concerning, and I think it should be something that we should try to address, but how we go upon addressing it I'm not sure," Ferris welding engineering and technology sophomore Kevin Volesky said.
There are methods for the prevention of sexual assaults, as well as ways for individuals to protect themselves. At Ferris, education about accountability, consent and bystander intervention skills are priorities, according to Pufhal.
"There are ways to reduce your risk when you go out," Pufhal said. "However, if someone is sexually assaulted I want them to know that it is never their fault, and help and support are available."
For victims of sexual assault, campus resources include confidential, no-cost support at the Personal Counseling Center. Additional resources can be found at ferris. edu/title-ix.