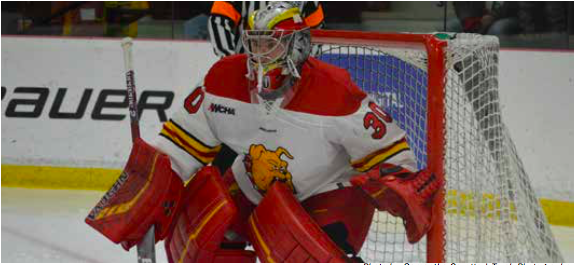 Living a few hours away from home could be a hard transition for some college freshmen, but for Ferris freshman goalkeeper Roni Salmenkangas, about 4,180 miles separates him from home.
Salmenkangas is from Tampere, Finland, which is in the southwest region of the country. During his time in Finland, Salmenkangas played for the Hämeenlinnan Pallokerho (HPK) U20 (under-20s) team in the Jr. A SM-Liiga league. The transition for Salmenkangas has seemed to be no issue though, as he is 4-0 in the four games he has started, one being his first collegiate shutout.
It has always been a goal of Salmenkangas to play in the NCAA as he grew older. More and more players he knew from his Finnish league went on to play in college, so once his season ended, he decided to email a few colleges, with one of them being Ferris. The Bulldogs were clearly interested in him, so they made a few phone calls and various email chains. With former Ferris goalkeeper Darren Smith no longer on the team following his arrest regarding alleged sexual assault, Salmenkangas got his opportunity.
"He emailed us, it was just that simple. I didn't know anything about him," Ferris head coach Bob Daniels said. "This one intrigued me because Finland's got a reputation of producing a lot of good goaltenders, but I didn't know enough about the leagues he was in, so I asked Oskar Andren, who played in Sweden, about it and he said that, 'The team he played for was one of our rivals, I know that team. That's a really good team.'"
While Salmenkangas played for the HPK U20s, he posted 1.58 goals against average in the 45 games he played, which is what Daniels saw that made him interested in the goaltender. According to Salmenkangas, the main difference between playing in Finland and playing NCAA hockey is the rink size.
"We have a really small rink here," Salmenkangas said. "We have Olympic-sized rinks in Finland, so hockey is so much faster here. Guys are so much more powerful, like crashing the net more often, so I have to bring more accuracy than in Finland."
Something that stands out about the young Finnish goaltender is that he does not show much emotion in between the pipes. Often, players all over the ice will get flustered or angry, but for a goaltender, staying calm and collected is the best mindset to be in.
"He's very calm in net, there's not a lot of drama, he's not hopping around a lot," Daniels said. "I haven't seen it yet, but I'm assuming if he were to give up a bad goal, he won't be overly demonstrative about it. When a team sees that he's cool, calm, not getting rattled, I think that really sends a message to the team that if he's not rattled, we shouldn't be either."
Most college athletes tour the campus, facilities and meet the team well before they become a student at Ferris. But for Salmenkangas, this was not the case. He never stepped foot in the United States before he committed. When he first came overseas, he was already committed as a Bulldog and enrolled as a Ferris student.
The culture shock of moving from Finland to Big Rapids was hard for Salmenkangas at first, he said, but his teammates helped him out and made him feel like he was part of the team right when he arrived on campus. Salmenkangas also noted the climate and weather helped ease the transition, as Michigan is not too different from his area of Finland.
"I think his future is very bright, though," Daniels said. "Just athletically, he's very gifted and he's really good in his ability to move side to side in net."
Salmenkangas and the Bulldogs are back home 7:07 p.m. Friday, Nov. 9, and Saturday, Nov. 10, where they face off against the Michigan Tech. Huskies.