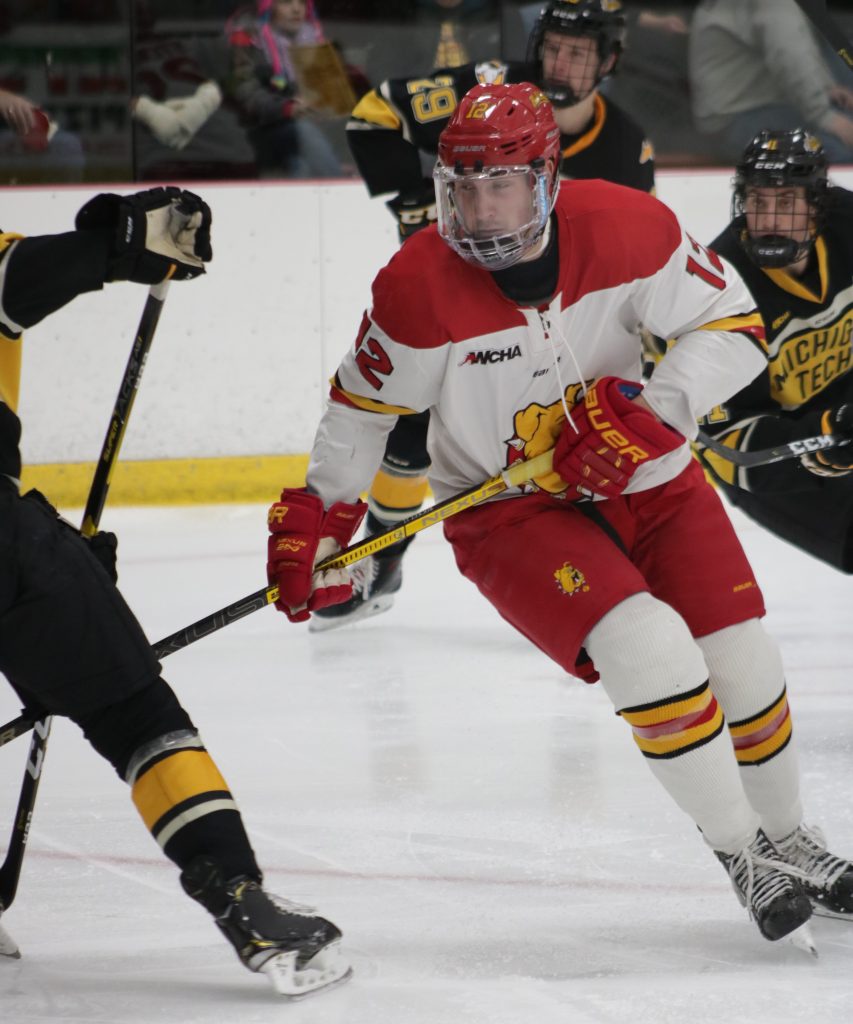 A rough first period for the Ferris men's hockey team proved too much to overcome as the Bulldogs fell to the Michigan Tech University (Tech) Huskies 5-4.
First period struggles on the defensive side for the Bulldogs were a major factor Friday, Nov. 9. Ferris allowed MTU to out-shoot them 15-5 and gave up two goals within the first five minutes of the game.
"I was disappointed in our start of the game in regards to our puck management and our battling for loose pucks," Ferris hockey head coach Bob Daniels said. "It's the same story we've been seeing. For whatever reason, once a week we don't show up at game time."
"I don't think we played our game honestly," Ferris senior forward Corey Mackin said. "We definitely didn't come out strong. I think we made a lot of mental mistakes that we haven't been making."
Ferris sophomore forward Marshall Moise was the saving grace for the Bulldogs in the first, scoring back-to-back goals to tie things up before the Huskies eventually took a 3-2 lead heading into the second period.
Momentum was on the Bulldogs' side for the remainder of the game, as they pummeled Tech junior goalkeeper Matt Jurusik with 22 shots through the final two periods. It wasn't enough, however, as the defensive side eliminated every attempt the Bulldogs' offense made at a comeback.
"We were chasing the game, we tie in the first 2-2," Daniels said. "Within a couple minutes, they come back and now they got the lead again at 3-2. We're chasing it again, we knot it up at four, have a good look in the third – down they come and score again. There's only so many times you can come from behind."
The Bulldogs were impressive in special teams play, going 2/4 on the power play with goals from Moise and Ferris junior forward Jason Tackett. They also held the Huskies to just 1/4 on the other end.
Ferris freshman goalkeeper Roni Salmenkangas again received the start in the crease, as Ferris junior goalkeeper Justin Kapelmaster remains out of the lineup with a lower-body injury. Salmenkangas stumbled back to reality after a 4-0 individual start to the year, allowing five goals to an aggressive Huskies offense.
With the loss, the Bulldogs move to 4-5 overall on the year and fall to 2-1 in the Western Collegiate Hockey Association. Tech improves to 4-3 with the victory.
Ferris will look to move their record back to even as they finish their series against the Huskies 7:07 p.m. Saturday, Nov. 10, inside Jim Wink Ice Arena.