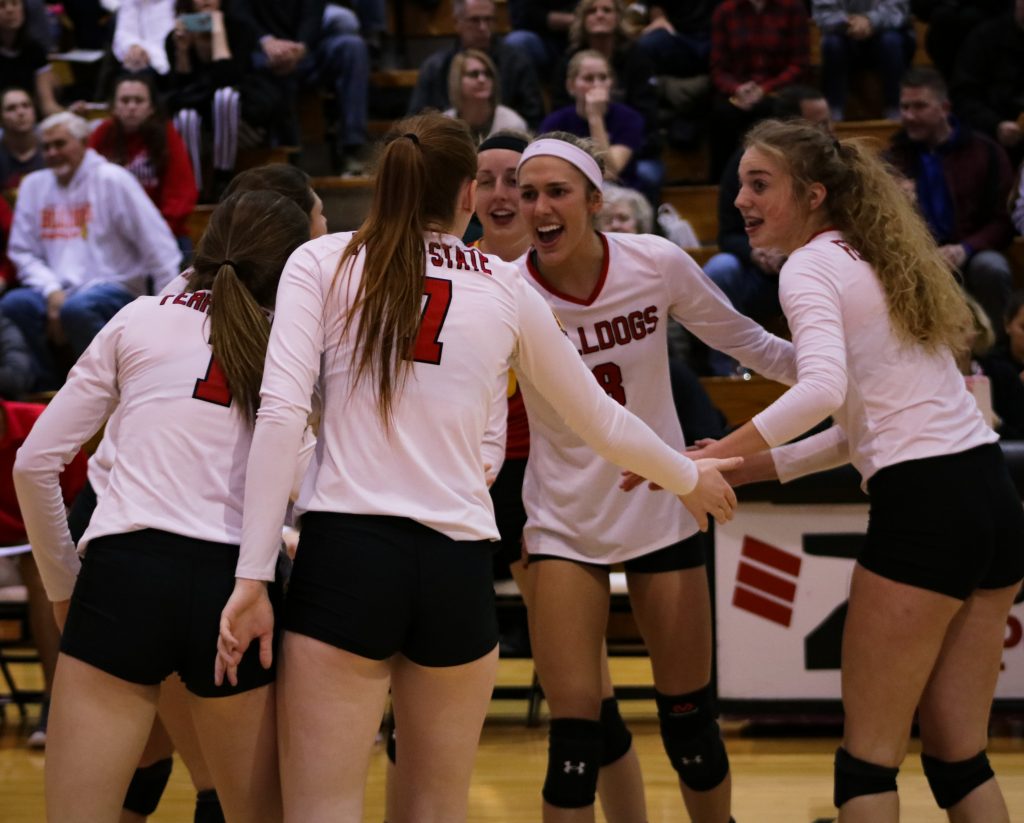 For the fifth straight year, the Ferris women's volleyball team is both Great Lakes Intercollegiate Athletic Conference (GLIAC) Regular-Season Champions and GLIAC Tournament Champions.
The top seeded Bulldogs captured their fifth straight Tournament Championship Saturday, Nov. 10, by defeating the six seeded Davenport University (DU) Panthers in a 3-0 sweep.
"Every season is just so new," Ferris women's volleyball head coach Tia Brandel-Wilhelm said. "We're super excited to continue the legacy that players have put into place, but this one is about this team and the work that they did."
The Panthers entered Saturday's matchup on a hot streak, pulling off an upset of the two seeded Michigan Tech. University in their previous match up. The Bulldogs were looking to continue a streak of their own, having won their last six games by scores of 3-0.
A home-court advantage was a major factor for the Bulldogs, as a crowd of 489 fans piled into Jim Wink Arena. Ferris was 15-0 on their home-court coming into the game.
DU played the Bulldogs close in the first set, falling 25-20 before dropping off slightly in a 25-16 loss in set two. The third set was the most hotly contested of the evening, as the two teams were separated by just three points in a 25-22 victory for Ferris.
Ferris sophomore outside hitter Katie O'Connell led the Bulldogs with a team-high 13 kills and 12 digs. Junior outside hitter Allyson Cappel and junior middle hitter Mekayla Carey added 12 kills in the winning effort.
"Davenport is a good program," Brandel-Wilhelm said. "We always kind of thought that they could get things together and make a run…we knew it would be a good challenge and we're always excited for a challenge."
The Bulldogs continue to add to the win column, improving to 26-4 on the year. Davenport fell to 17-14 on the year.
Ferris is sitting pretty heading into the NCAA Division II Tournament, but will have to wait to hear who they will match up with in the Midwest Regional Quarterfinal on Thursday, Nov. 15. The Selection Show for the tournament is set to take place 10 p.m. Sunday, Nov. 11, on NCAA.com.
As for Brandel-Wilhelm and her squad, they have no worries.
"Whatever happens, happens," Brandel-Wilhelm said. "We're just excited to be in the NCAA Tournament and we'll go anywhere, play anybody. We just want an opportunity to get another win."