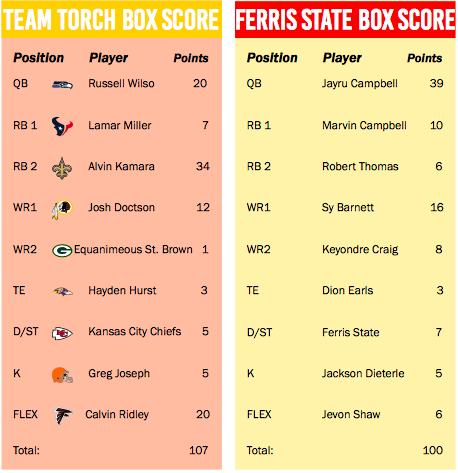 Team Torch has back-to-back fantasy football victories for the first time this season, taking down the Ferris football team 107-100.
Ferris will have one more chance to even the score as they prepare for their regular season finale. After that, we will enter the NCAA Division II playoffs, where any players in the National Football League (NFL) are once again fair game in my pool of selections.
An offensive explosion gave the Bulldogs a 41-17 win over Davenport University in their final Great Lakes Intercollegiate Athletic Conference (GLIAC) match up Saturday, Nov. 3.
Ferris' offense continues to thrive when junior quarterback Jayru Campbell uses both his arm and his feet to make plays. Campbell threw for 142 yards and two touchdowns, and rushing for 145 yards and another two touchdowns.
Although Campbell didn't put up gaudy numbers in terms of passing yardage, he did spread the football across the field, finding six different receivers on the day. The Bulldogs have been at their best when their quarterback targets five or more receivers, surpassing 35 points each time Campbell has done so.
The Bulldogs are undefeated at 10-0, but two of their closest games (a 28-14 victory over Saginaw Valley State University and a 28-21 victory over Ashland University) are the only two times so far this season that less than five receivers have caught a pass.
Ferris' offense is also at its best when they use small chunk plays to tire the defense, then take a big play shot to gain momentum. Evidence of that revealed in the game against Davenport. On the Bulldogs' first scoring drive, they ran just four plays. The first three gained a total of 14 yards before Campbell uncorked a 43-yard touchdown pass to redshirt freshman receiver Sy Barnett.
If Campbell and the offense can continue this trend, they will easily dispatch William Jewell University 1 p.m. Saturday, Nov. 10, in Missouri.
My picks for next week are as follows:
QB – Matt Ryan – Atlanta Falcons: Ryan's top receiver Julio Jones finally caught his first touchdown of the season last week. I'm sure Ryan is hungry to feed Jones again this week.
RB1 – Aaron Jones – Green Bay Packers: Jones can hit a gap in the defense like no other.
RB2 – David Johnson – Arizona Cardinals: Johnson doesn't get attention from the media, but he should.
WR1 – Michael Thomas – New Orleans Saints: Thomas had his best performance of the season last week against an undefeated Los Angeles Rams squad. Expect gaudy numbers when he takes on the Cincinnati Bengals this week.
WR2 – Tyreek Hill – Kansas City Chiefs: Hill's Twitter handle is @cheeta, so yeah, he's pretty fast.
TE – Trey Burton – Chicago Bears: The Bears are on fire and Burton has the best size on the team to make big plays.
D/ST – Buffalo Bills: The Bills play the New York Jets, who threw four interceptions last week.
K – Ryan Succop – Tennessee Titans: Succop will see plenty of kicking opportunities against a New England Patriots defense that doesn't allow many touchdowns.
FLEX – Curtis Samuel – Carolina Panthers: Samuel is fast and can be dangerous as a receiver and a runner in open space.