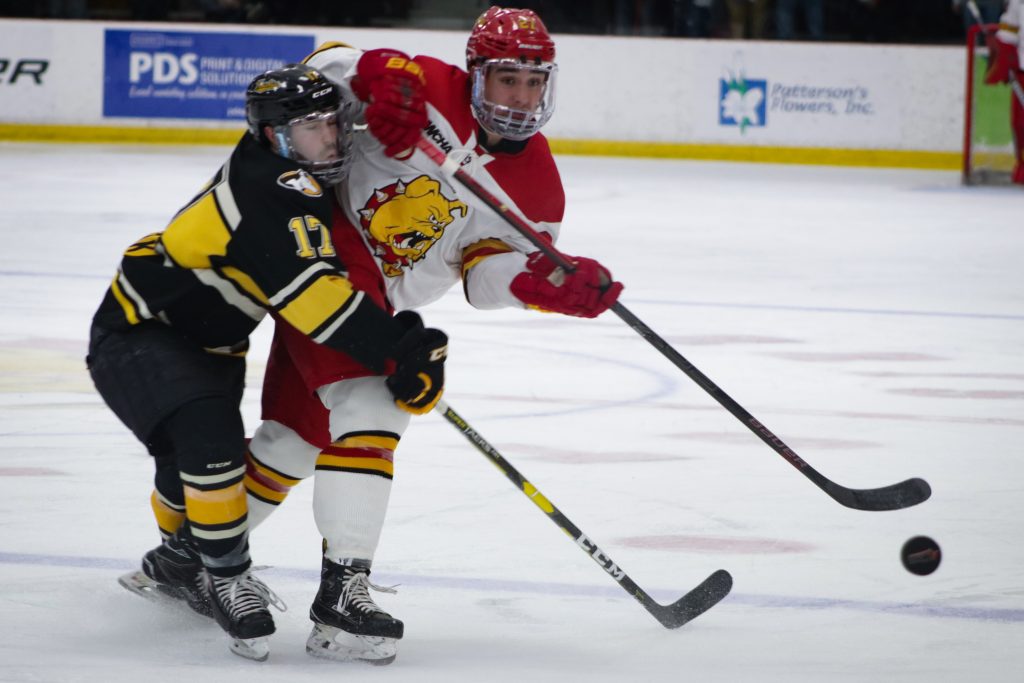 The Ferris hockey team fell 4-3 to the Michigan Tech. University (MTU) Huskies, quickly lowering their record in the Western Collegiate Hockey Association (WCHA).
After a close 5-4 loss the night before, the Bulldogs fell short by a goal once again Saturday, Nov. 10. In front of the 1,853 fans inside Ewigleben Ice Arena, the Bulldogs looked to put the previous night in the rear-view mirror and focus on the game at hand against WCHA opponent MTU (5-3-0).
Ferris had home ice, but it was chants from the MTU fans that could be heard echoing throughout the arena. Fans of the Huskies have a history of traveling well, as they tend to go back and forth with the Dawg Pound each year the two teams play.
The Bulldogs got off to a faster start, almost doubling the amount of shots they took Friday night. With the Bulldogs upping the pressure, the Huskies were held to one goal in the period. Ferris evened things with an absolute missile of a shot coming off the stick of sophomore forward Coale Norris, which made the score 1-1 after the first period.
"I think we knew we couldn't get behind early again," Ferris junior forward Jason Tackett said. "We knew that we had to come out hard or they were going to give it to us again and we just wanted to get a lead and we did. Unfortunately, we just could not hang on to it."
Ferris came out strong in the second period, jumping out to a 3-1 lead after junior forward Jasen Fernsler scored just one minute into play; Ferris junior defenseman Nate Kallen also found the net.
Unfortunately for the Bulldogs, the Huskies caught fire, going on to score three unanswered goals in the final ten minutes of the second period. Neither team got on the board in the third period, earning MTU the 4-3 win.
"We took a bad offensive zone trip penalty…they scored, and I thought that changed the momentum a bit," Ferris head coach Bob Daniels said. "With a two-goal lead, the last thing we really want is an ill-advised trip in the offensive zone."
Ferris drops to 4-6 overall on the year and now sits in a three-way tie for fifth in the WCHA with a record of 2-2. MTU improves to 5-3 and sits atop the WCHA at 4-0.
The Bulldogs will be on the road next week as they face off against the No. 3 nationally ranked Minnesota State Mavericks 8:07 p.m. Friday, Nov. 16, and Saturday, Nov. 17.