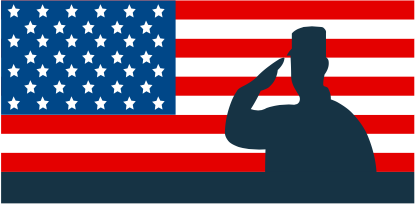 As Ferris honored the military with a Veterans Day concert Sunday, Nov. 11, some veterans and military members took time to praise Ferris' treatment of student veterans.
Whether they are adjusting to civilian life as a student or having to report to monthly training as a reservist, veterans and other military members are non-traditional students. Ferris has more than 400 student veterans, according to collegefactual.com, and for many, the transition to civilian life is a difficult one.
"It's like being dropped in a vat of ice water. It's a shock going from one day being in a family environment where everybody has your back and is your brother or sister to being in an environment where you're in a pool of sharks and everyone is out for themselves and nobody is going to help you," Ferris biology senior and U.S. Coast Guard veteran Kristin Wilcox said. "Coming from the military side into the civilian side, we need to support those vets and we need to have camaraderie, which is what we're trying to build in the Veteran's Resource room."
Ferris' Veteran Resource Center (VRC) helps veterans adjust to civilian and college life and is located in the Center for Leadership, Activities and Career Services. The VRC also helps veterans with non-college related tasks, like helping with Veterans Affairs healthcare applications and disability claims.
Wilcox says that Ferris' treatment of veterans played a large role in her decision to attend school here, and for many other students, the VRC has been instrumental to their collegiate success.
"Ferris has two employees in the VRC dedicated to helping us out all the time: Jacob Schrot and Sean Allen. They are tremendous and help in any way they possibly can. They bend over backwards to help with anything we need," Ferris electrical engineering senior, Student Veteran Alliance RSO treasurer and Army National Guard reservist Mathew Dawson said. "Ferris has employed people that actually care. To be honest, I don't know if there would even be a concert for veterans if they weren't actively pushing for it."
For students like Dawson and criminal justice senior Seth Dredge, who is also an Army National Guard reservist, one weekend a month and some weekdays are spent training. It's an extra commitment that they say professors are understanding of and one they don't let get in the way of school.
"There are challenges that it brings. I miss classes here and there because drill happens on Friday or even some Thursdays, but you just get your work done prior. I don't like to ask for extensions so I just get work done beforehand." Dredge said. "If anything, I think it keeps me more on top of things."
Despite the challenges, Dredge says that the benefits, especially having his schooling paid for, makes it worth it. For both Dredge and Dawson, they also say that their professors are understanding and accommodating.
"I've never had a professor not understand my commitment, and so they're always really cool with me missing class. I think on a normal basis, with our duty to the state and to the Army, if you know you have something due, you just do it ahead of time. I can't imagine not doing this, and so it's hard to say it makes things more difcult because it's a commitment I have all the time," Dawson said.
The 16th annual Veterans Day concert was held by the West Central Concert Band. It featured special musical selections from all five branches of service and veteran speaker Velvet Underwood.