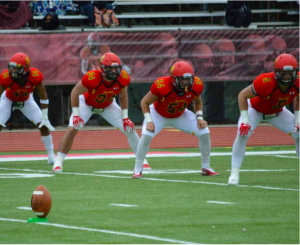 CORRECTION: Ferris football's game against Harding University will begin at 1 p.m. instead of noon, which was the time originally reported.
—
The Ferris football team has successfully completed their undefeated season, finishing the year 11-0.
The Bulldogs haven't had much trouble earning wins this season, with most of their victories coming by double-digit leads. There have been a few close battles, but no matter how much they lead by, Ferris head football coach Tony Annese knows it and prepares them for the postseason.
"Regardless of final score or how close it was, prepares us for the challenges for a second season," Annese said. "We learn that if you get fast starts, it makes life a little easier on yourself."
Those fast starts have been big for Ferris, as the Bulldogs have outscored their opponents 123-27 in the first quarter this year, taking as much as a 35-point lead in the opening 15-minutes.
Fast starts have a great impact, but so does location. The Bulldogs have played six of their 11 games on the road this season, a challenge Annese believes takes a bit of learning.
"Playing on the road in a highly contested game or venue that isn't your own, you learn to grind out victories that way," Annese said. "I think you learn a lot both ways."
The defense for the Bulldogs has played a huge role in keeping other teams off the board, as well. Though the Bulldogs may not be as dominant as last year's squad, led by big names like Zach Sieler and Tavierre Thomas, they're still allowing around the same amount of points.
A year ago, the defensive unit for the Bulldogs allowed just 15.2 points per game and 281.1 yards per game. Fast forward to today, Ferris is allowing 18.2 points per game and 338.7 yards per game.
Ferris junior cornerback Adrian Green is part of that defensive unit for the Bulldogs and has recorded 19 tackles to this point this season.
"What's been special about this season is that we've faced adversity all season long. Those different scenarios have helped us continue to grow throughout the season," Green said.
Annese mentioned that going 11-0 is what they strive for heading into each season, but with the NCAA Division II playoffs set to begin, the Bulldogs' undefeated mark becomes an "accomplishment in the past."
Heading into the postseason, Annese reminds his team daily that going in strong and treating every game as a new season is a priority. Annese believes his team "built who they are" with their undefeated record, but the team knows higher level of competition face them.
"The home field advantage was a goal for us going into the season," Green said. "We're glad we were able to earn that privilege, but we've still got to continue to work hard every single day because it isn't easy to win games in the playoffs no matter where you're playing."
The Bulldogs will enter the NCAA Division II Super Region Three Quarternal as the No. 2 seed. Ferris will face Harding University (Searcy, Arkansas) 1 p.m. Saturday, Nov. 17, at Top Taggart Field.