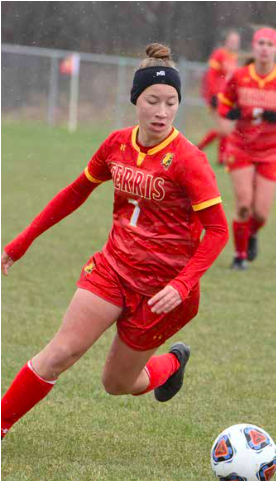 The Ferris women's soccer team is coming off an undefeated weekend as they competed in the first two rounds of the NCAA Tournament.
The Bulldogs pulled off a 2-0 victory over the No. 6 seed McKendree University (Lebanon, Illinois) Thursday, Nov. 8, and a 1-0 win over the No. 2 seed Ohio Valley (Vienna, West Virginia) Saturday, Nov. 10. The team currently has an overall record of 16-3-3 heading into the NCAA Sweet 16.
This fall, the Ferris soccer program added nine new talented athletes to their roster. Many of these freshmen have provided depth for the Bulldogs this year, and a new set of skills to help the team. However, one that has stood out tremendously has been Ferris freshman forward Pia Nagel.
In last Thursday's contest against McKendree, Nagel netted the first goal of the game and her team-high 10th goal of the season to give the Bulldogs a 1-0 lead. This would prove to be the game-winning goal in the contest and broke the program's record for all-time single-season goals scored.
In the second-round contest against Ohio Valley, Nagel also appeared in the stat book with her fourth assist of the season to Ferris junior Tia VanSuilichem to put the Bulldogs ahead 1-0. Nagel is currently in second place for total goals in the Great Lakes Intercollegiate Athletic Conference (GLIAC) with her mark of 10.
"Pia's ability to stay composed in front of the net and score goals is her biggest impact on our team. She's a very technical and crafty player," Ferris sophomore defender Maddie Dickens said.
Nagel came to Ferris from Karlsruhe, Germany, but her journey wasn't the most traditional.
"We received an email from a recruiting service with a video on Pia. You get them a lot and usually when those come through, there are a few things that don't line up. The players either aren't good enough, their grades aren't good enough, the level they play isn't good enough, or they don't have any real interest in the school. So usually you don't watch much of these videos at all," Ferris women's soccer head coach Andy McCaslin said. "With Pia, it was an opposite from the typical recruiting service. She was a good player, who played good competition and had good grades. We reached out and were able to speak with her directly on Skype, and all of the pieces lined up in the end, and we're really excited that she decided to be a part of what we're building here."
For any college student, transitioning from high school to college is a challenge. However, Nagel had to also play into account that she is from a different country.
"She transitioned really well into the team, and she fit in well with all of us. Having preseason and being with the team 24/7 before the school year started really helped her out I think. We were able to help her figure out where to go for all her classes, how things work at Ferris, and showed her some different places around Big Rapids," said Dickens.
Nagel attended Otto Hahn Gymnasium for high school in Germany and had had a strong passion for soccer for years.
"After some conversations with Andy, I was pretty sure that he was a coach that I can work well with, and he and the team help me to become a better soccer player," Nagel said. "For me, Ferris is the perfect size for a university, and they have different academic programs, which was appealing to me."
Nagel was one of three Bulldogs to be nominated as a member of the 2018 All-GLIAC Women's Soccer Team.
"I was a bit afraid that I decided wrong when coming here, but from the first day I arrived here I was really happy about my decision and don't regret it at all," Nagel said. "The girls on the team are great, and the level we play soccer is higher than I expected it. It's just great to be a part of this team."
Nagel and the Bulldogs will face their toughest test of the season as they head to Allendale to take on Grand Valley State University 2 p.m. Friday, Nov. 16, in the Midwest Region Championship.