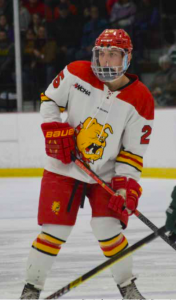 Upperclassmen have primarily dominated Ferris hockey in the past years, but for the 2018-2019 season, the freshmen are making a name for themselves.
With Ferris having signicant upperclassmen in the past like Gerald Mayhew and Jared VanWormer, veteran players get more credit for the success of the team due to their experience with the team. There are still productive veterans like senior forward Corey Mackin and junior defenseman Nate Kallen, but the freshman class has seemed to find their groove and shine brightly.
The Bulldogs have seven freshmen on their roster this year: two defensemen, four forwards and one goaltender. Those seven players, excluding the goalie, have attributed 18 points out of the teams' 83 total points on the year, making up for about 22 percent of Ferris' points. The leading goal scorer for the Bulldogs, freshman forward Hunter Wendt, has tallied five goals on the year.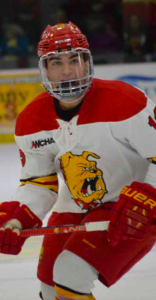 "It's good to see our freshmen continually show up on the score sheet," Ferris hockey head coach Bob Daniels said. "Whether it's Cooper Zech, Hunter Wendt, Justin Michaelian, when we have those kinds of contributions from our freshmen and then you add our returning players, we're pretty deep right now."
In order to talk about the freshman class, it is crucial to talk about the Finnish goaltender Roni Salmenkangas. It was uncertain coming into the year how much ice time the freshman was going to see, but once junior goaltender Justin Kapelmaster went down with an injury, Salmenkangas showed up and exceeded expectations, posting a shutout in his second ever collegiate start. Salmenkangas also earned the Western Collegiate Hockey Association (WCHA) Rookie of the Month following his performance during October.
Coming into the season, there was a lot of hype behind freshman defender Zech, who earned the WCHA Preseason Rookie of the Year before the season started. Zech is one of the nine players that has appeared in every game so far this season, where he has accounted for seven points. Zech has proved that he is versatile on defense but also has the ability to generate some offense.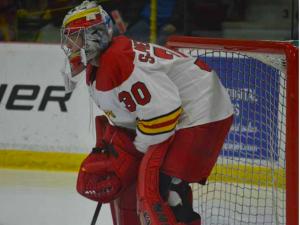 "It's definitely bigger, faster, stronger, but if you can outthink them and out skate them, then it shouldn't bother you," Zech said. "We pass a hard hat around after every game and first win it goes to Wendt, next win it goes to Roni, you know the freshman class is doing their part right now, and it's working out."
The freshmen look to make an even bigger name for themselves as they travel to Minnesota to take on the third nationally-ranked Minnesota State Mavericks 8:07 pm Friday, Nov. 16, and Saturday, Nov. 17.