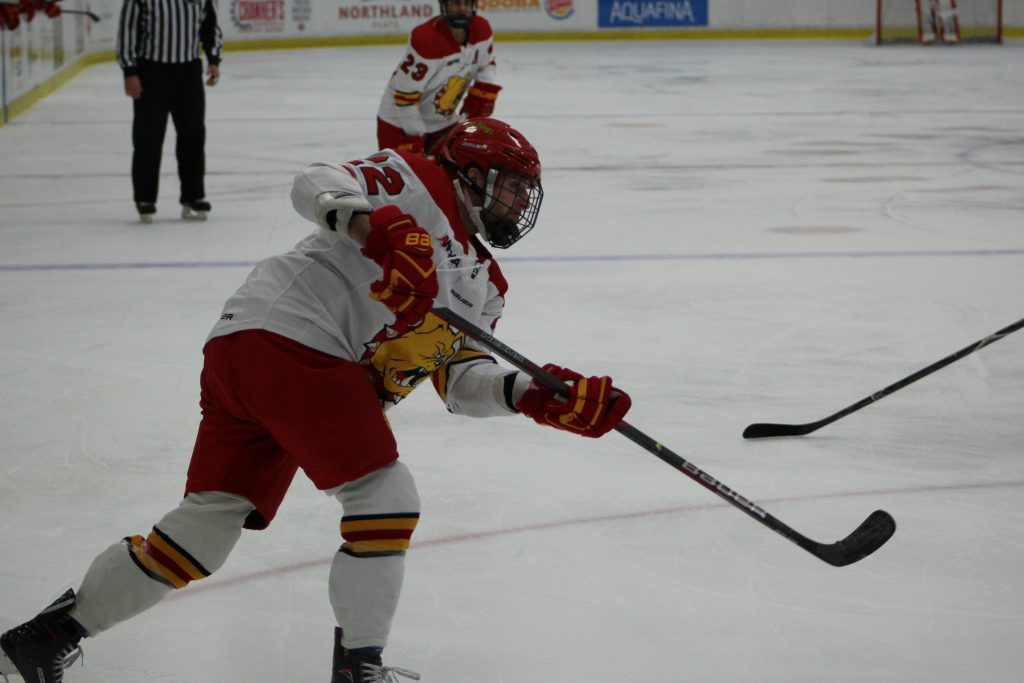 The Ferris hockey team dropped their first game of the weekend series to the Minnesota State University (Mankato, Minnesota) Mavericks 7-1.
The Bulldogs knew they had a tough weekend ahead of them, heading on the road to face the No. 3 nationally ranked Mavericks, who outscored Ferris the previous year 11-3 between the two matchups that they had. Friday, Nov. 16, was the first game of a very long road stretch, as five of Ferris' next six weekend matchups will be away from the Ewigleben Ice Arena, so starting off with a win was what the Bulldogs hoped for.
Freshman goaltender Roni Salmenkangas looked to try to get back in the groove of things after his first pair of back-to-back losses last weekend. However, a very skilled Maverick team took advantage of every Bulldog error and got on the board within the first ten minutes of play. The momentum did not stop for the Mavericks, as they powered through to score two more goals in the first, which made it a 3-0 game after 20 minutes of play.
The Bulldogs were caught off guard once the second period started as the Mavericks kept it rolling and scored within the first minute of play. The Bulldogs could not get any offense going, as they were held to only four shots on goal for the entire second period, the opposite the Mavericks, who tripled the shot attempts of the Bulldogs. The Mavericks would find the back of the net once again as time was winding down to make it 5-0 going into the final period.
It was not until seven minutes into the third where Ferris senior forward Jacob Hetz put one past the Mavericks' goaltender, ruining any talk of a shutout. The Bulldog goal put a little pep into the team, already being down 5-1, but not enough to close the gap any more. The Mavericks went on to score two more goals during the third, making the final score 7-1.
The Bulldogs fall to 4-7 on the year with a 2-3 record in the Western Collegiate Hockey Association. Minnesota State improves to 8-1 on the year.
Ferris will look to put the loss behind them and tie up the weekend series 8:07 p.m. Saturday, Nov. 17, in Mankato, Minnesota.